Following last year's complaints about high costs
New measures surrounding room damage claims at UCU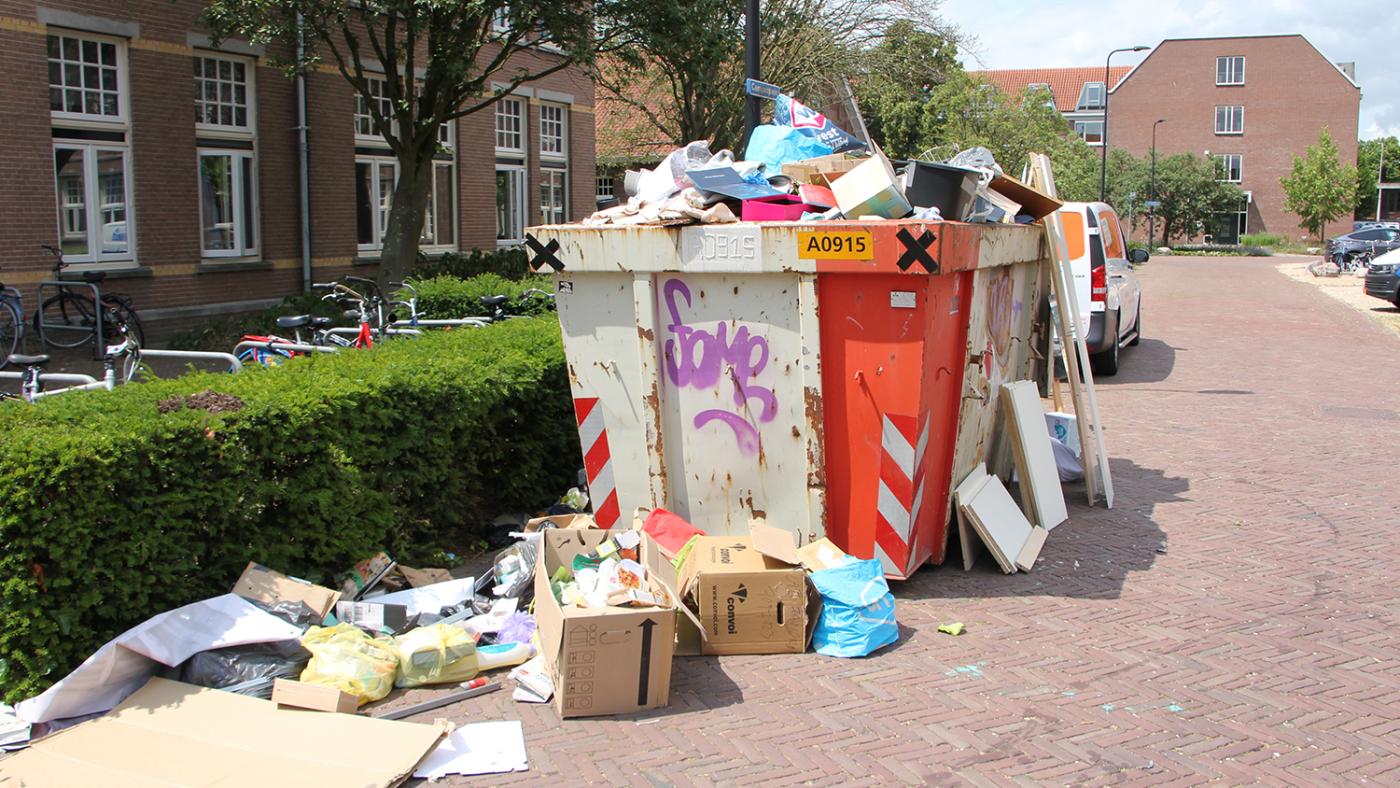 UCU students have already left their rooms. Photos: DUB
It's Monday, July 3, 1:00 pm. Tessa van der Tol from Lekstede Wonen, the company that owns the buildings, started the inspections at 7:00 am. The landlady of UCU students has a GoPro camera around her neck this time. A colleague of hers has put stickers on the objects that need to be replaced, repaired or cleaned. Now, the cleaning crew is taking away all the stuff that students have left behind and a handyman is making all sorts of small repairs.
At midnight, all students from University College Utrecht (UCU) who live on the International Campus had to leave the grounds. Judging by the number of bottles of cleaning products, soap, shampoo and soft drinks, as well as all the food leftovers, furniture pieces, home accessories, clothes and even a dead mouse, many of them did so in a hurry. After all, they could have donated many of those things to other students or thrown them away in one of the containers spread across the terrain. "When students come live here, they know they have to leave. Even so, they tend to leave packing, tidying up and cleaning to the last minute and then run out of time," laughs Maarten Diederix, who has been UCU's housemaster for over 25 years. Overseer Marcel Gijsbertse, from Lekstede, Van der Tol and Diederix wish they would see this every year. "The students from this unit really did their best," says Diederix. The agreement is that students will take all their belonging away, clean the kitchen and bathroom and mop the floor. All three agree that some students are better than others when it comes to doing all that. Last year, a number of UCU students were shocked by the fines they had to pay for the replacement, repair or cleaning of objects following the inspection. A heated discussion ensued. "Some students definitely had a scare," says Diederix.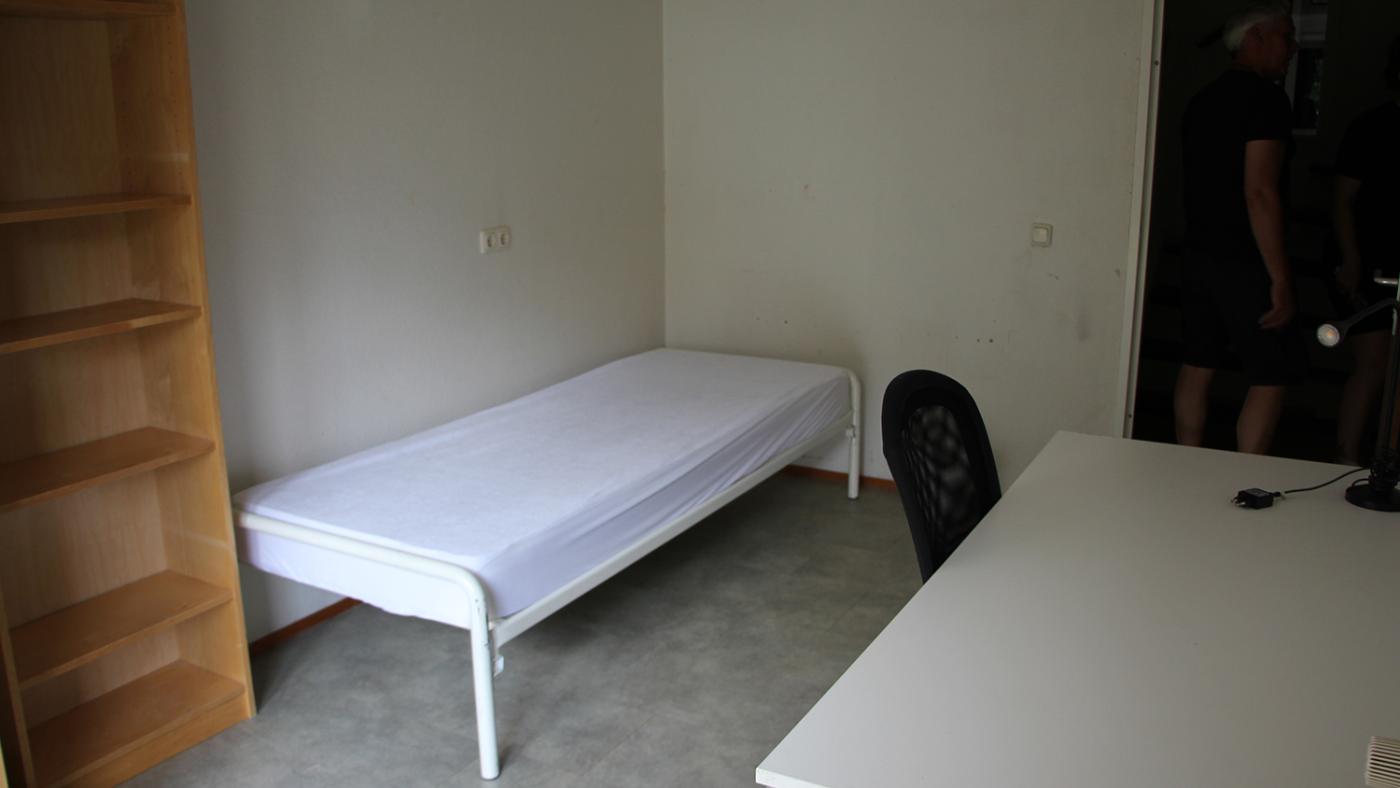 The inspectors found this room nice and clean. Photo: DUB
A total of 42,000 euros were charged in fines. UCU students protested against the considerable sum. They said that they were not responsible for all damages and that it isn't fair to place the burden of proof on students' shoulders alone. Some of them were considered to be right in the end, so they received their money (or part of it) back.
Every year, repair and replacement costs are a hot topic every year. Is maintenance overdue? Shouldn't this chair have been replaced last year already? The housing association is responsible for the maintenance of the building and its permanent facilities, such as kitchens and bathrooms. But the things that don't fall under regular maintenance are charged from the university, which then sends a bill to the students involved.
Diederix has a good example. He points to a grey stain on a yellow linoleum floor, right under a sink. That should have been repaired the year before. "The drain leaked and damaged the carpet. We only noticed that when doing our checks. The student said that the leakage was caused by overdue maintenance but if we don't know that there is a leakage, how can we repair it? The repair costs are on us, but replacing the floors isn't. So, the student had to pay for it."
One of the rooms will have to be painted white this year. But that has nothing to do with maintenance, says the trio. It's just that the person who was living in it smoked a lot inside. "That smell does not go away just like that. This room needs to be freshened up." Smoking inside the room is not allowed but people have been doing it more and more now that smoking is also forbidden in all educational areas, so smokers need to leave the campus to light a cigarette. "No one does that. Now, they're secretly smoking in their rooms. It looks like this student did that quite often."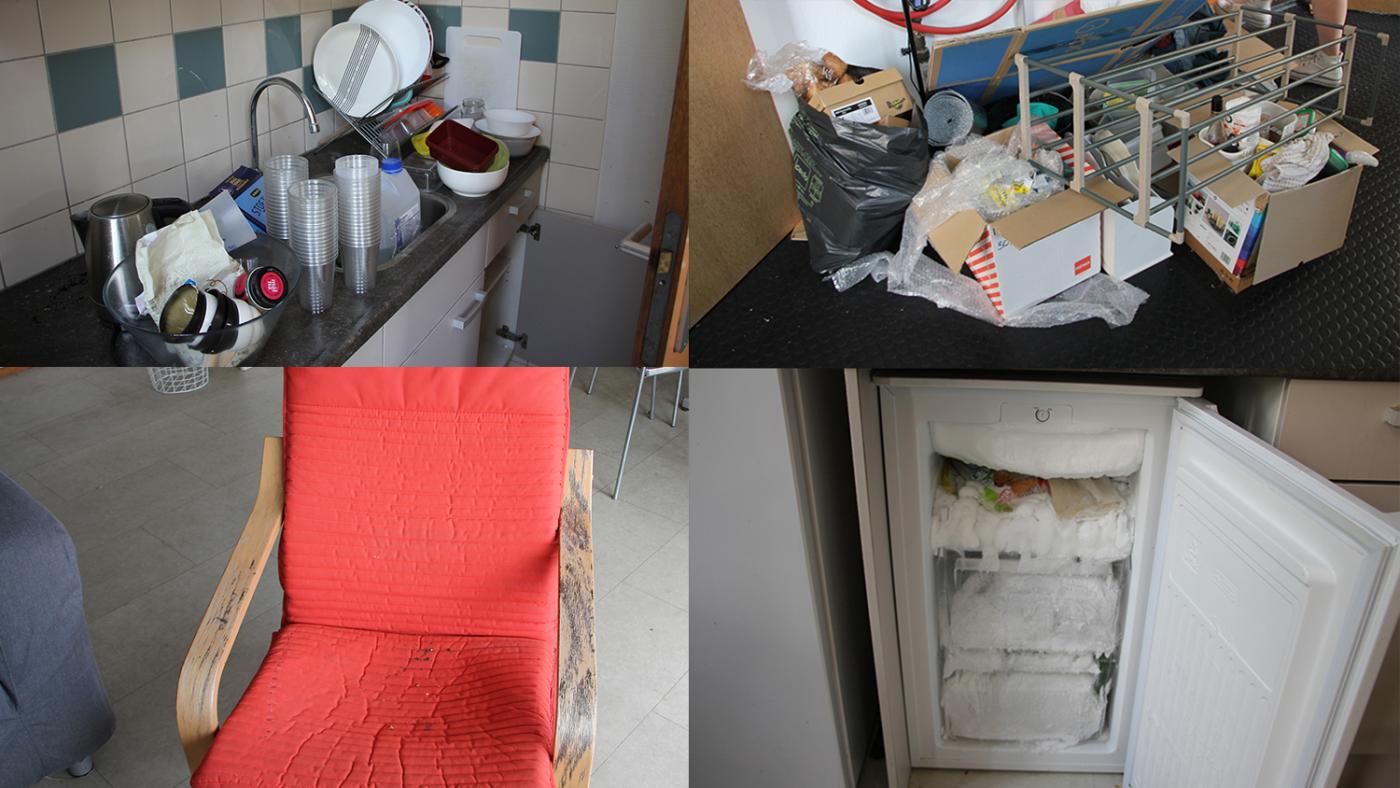 Things the students left behind: kitchen supplies, household goods, and a chair that was left outdoors for too long. It isn't uncommon for them to forget to switch off the freezer. Photos: DUB
Holes in the wallpaper
At the beginning of the academic year, the 750 or so students enrolled in UCU get a furnished room on campus to call their own. The room is part of a unit with four to eleven students, and they share the living room, the kitchen and the bathroom. The bedroom has a bed with a mattress and protective sheets, a wardrobe, a desk, an office chair, a pendant lamp, a desk lamp, and curtains. The common areas have a dining table with chairs, one of two couches, a coffee table, one or more armchairs, and curtains. As for the kitchen, it is equipped with a fridge, a freezer, a combi microwave, a stove, an extractor hood, and three garbage bins so that the residents can sort their waste. Tenants pay 737 euros in rent, including service costs, and a deposit which is going to be raised from 100 to 300 euros next academic year.
"Before students accept their room, they first have to verify it themselves," explains Diederix. They get a list in which they can indicate all of the room's flaws. They also need to take a picture of said flaws and attach it to the list. "Look," says Diederix, "there are holes in the wallpaper here. We don't think it's necessary to replace the wallpaper now. Most students don't mind it, they just hang a poster on top of it. But they must report it anyway so that we know that they have nothing to do with it. When they leave the room one year later, we'll take that list and see that the holes were already there. Then, the student will have no problems."
The same applies to the furniture. If a particular chair looks good in August but is damaged by the weather by the end of June because it was forgotten outside for long, the student will be charged the costs of replacing it, says overseer Marcel Gijsbertse. Diederix has another example. He lifts a sofa cover to reveal a tear. "This couch was still intact at the beginning of the academic year and now we will have to replace it. The students from this unit can expect a bill." But that's not all: they may also have to pay for cleaning costs. "Students rarely clean the combi microwaves. It costs 70 euro to let someone else do it. The students who were living in this unit will have to pay for that too."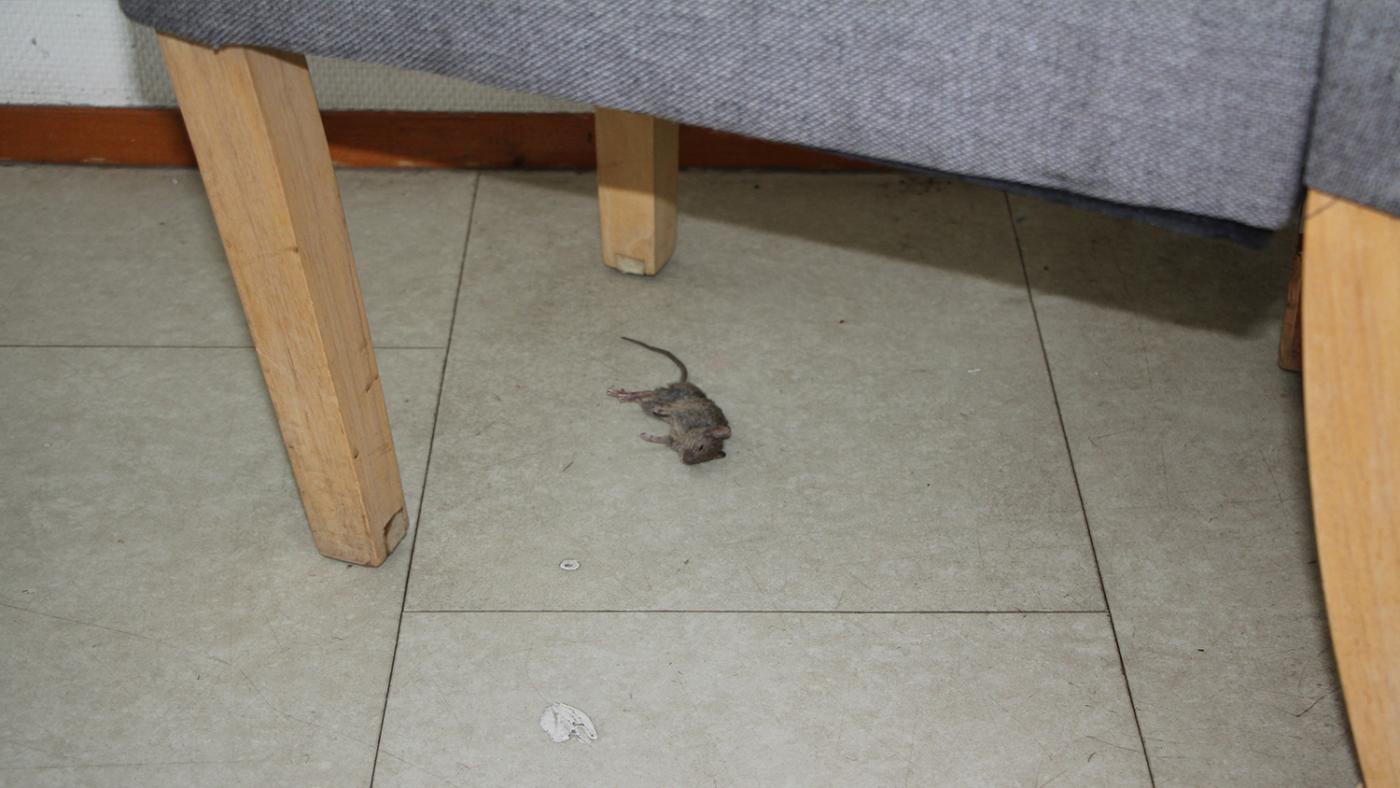 GoPro camera
To avoid conflict as much as possible, the inspectors started using a GoPro camera this year in order to have proof of their claims. Later this year, the housing association will determine the lifespan of all appliances and furniture. "How long does a microwave last? What about a couch or a mattress? This way, we can replace the items in time and avoid arguments like 'but it already needed to be replaced when I came in,'" says Van der Tol, the landlady. Next year, the deposit paid by students will be raised from 100 to 300 euros because "labour and material costs have increased significantly," according to Diederix. "Students get shocked when they hear that a cleaner costs 50 euros an hour and a handyman costs 60. They don't expect that at all."
The trio goes through the details of the inspection round together as the cleaners keep on taking stuff out of the rooms: both those left behind by students and the ones that need repair or replacing. The ice in the freezers is melting and the refrigerators are being switched off so that they be cleaned thoroughly afterwards. The mouse is going to the bin too. Once all that is done, it's time for the handymen to come over. But they will not have much time to complete their tasks, as the guests of the Utrecht Summer School, which starts in July, are soon to move in. In August, the rooms will be ready for another academic year at UCU.