Increase led by international students
Number of freshers increases at UU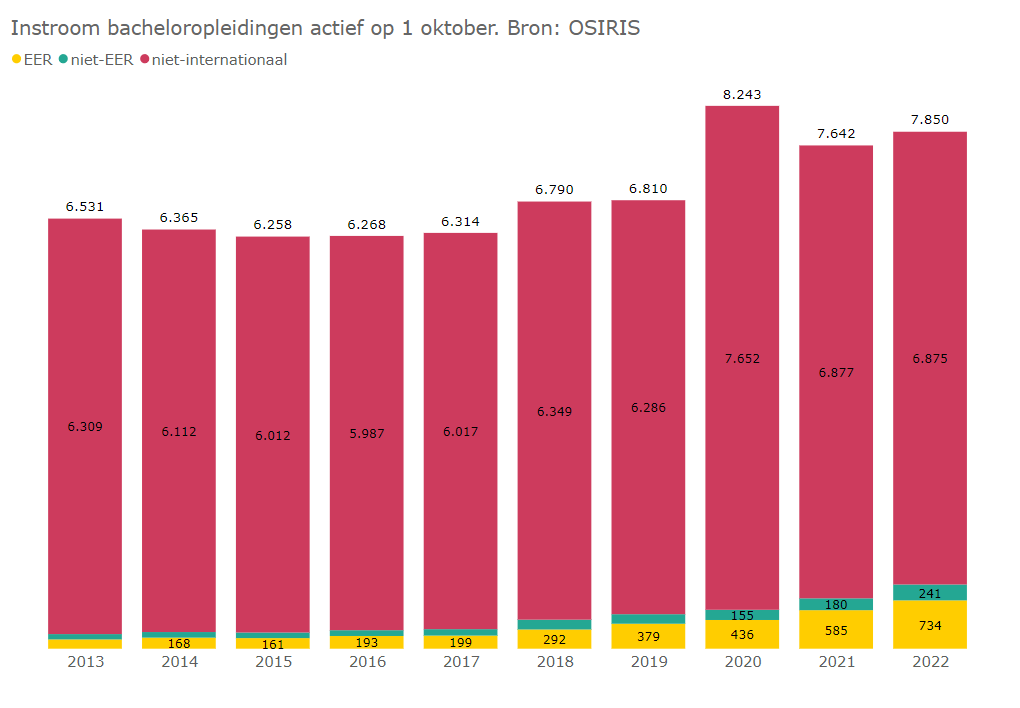 A total of 60,000 people started a Bachelor's degree this academic year, according to the latest count. That's 3,000 fewer freshers than last year and over 5,000 fewer than in 2020, the peak of the Covid-19 pandemic.
Things are different at Utrecht University, however. UU counts a total of 7,850 first-year enrolments, compared to 7,642 last year. The actual number of students can be slightly lower than that as some people enrol in two programmes. Despite the increase compared to last year, the influx of first-year students is still lower than in 2020, when 8,243 students started a UU programme.
International inflow
Despite the decrease in the number of freshers nationally, the association of Dutch universities stresses that the number of international students is still on the rise — a phenomenon that can also be verified in Utrecht, where 975 students from abroad started a Bachelor's programme this academic year, of whom 734 are from a country within the European Economic Area (EEA). Last year, 795 international students started their Bachelor's at UU, of whom 585 were from an EEA country.
The overall drop in the number of freshers is mostly due to a reduced number of Dutch students going to college straight from high school. Usually, 70 to 75 percent of high school students go straight to university after graduating but that figure is at 66.7 percent this year.
Number of Dutch high school graduates going straight to university. Source: Universities of the Netherlands, the association of Dutch universities.
These high school graduates are likely to be taking a gap year while the basic student grant isn't reinstated yet. Current university students in the Netherlands must borrow money to finance their studies but the Dutch government is set to bring back a basic grant for all students in September 2023. When the basic grant was abolished in favour of a loan system, in September 2015, one could see the reverse pattern: over 80 percent of Dutch nationals who graduated from high school in 2013-2014 went straight to university in order not to miss the last year of the grant.
It is also becoming more popular to take a gap year between a Bachelor's and a Master's degree. This academic year, Dutch universities got 124,000 registrations for Master's programmes, down from 128,000 last year. The same is true at Utrecht University, where 5,885 students started a Master's programme last year. This year, that number dropped to 5,377. There's been a drop among Dutch students and EEA students alike. However, the number of international students coming from countries outside the European Economic Area increased compared to last year.
Number of registrations at Master's level. Source: Universities of the Netherlands (UNL).
Language programmes struggling
It looks like languages aren't as popular as they used to be. In Nijmegen, the Bachelor's in Dutch language is growing but the total number of students is still small. The German programme is struggling as well: only six freshers enrolled in it in Nijmegen. "This is truly horrible," lamented Rector Han van Krieken in an online meeting with journalists. "I'm really concerned about this. We're only a few kilometres from the German border."
Geert ten Dam, President of the University of Amsterdam, identifies a similar situation there as well. "People are not exactly running to these programmes," she said. However, she thinks that recent innovations carried out by language programmes are going to bear fruit soon. The German programme, for example, has been integrated into European Studies, which according to ten Dam makes it more interesting for young people. "It's about the German language and culture, but also about European culture and the European Union."
More students in the STEM sciences
All in all, Dutch universities will remain the same size they were last year: the number of freshers is practically equivalent to the number of students graduating.
There are differences between disciplines, however. The only discipline that's truly increasing is "nature", with programmes like Biology, Chemistry and Physics, but also IT and maths. Combined, these programmes have seen 40,000 registrations (including older students). This number has doubled since 2011. Multidisciplinary programmes also perform well, like the Bachelor's Politics, Psychology, Law & Economics, offered by the University of Amsterdam. That's the programme the Dutch crown princess Amalia is following. Other disciplines remain the same or are decreasing in popularity.
In Utrecht, the biggest increase is seen at Molecular & Biophysical Life Sciences (MBLS), a programme combining Biology, Chemistry, Physics, and Pharmaceutical sciences. Information Sciences and Maths come second and third, respectively, while the fourth place goes to Economics & Business Economics.
The Master's programmes that have registered the biggest growth in registrations in relation to last year arr Film & Television Cultures, Nursing Science, and Theoretical Physics.
"We expect the number of students to increase in the next few years," states Pieter Duisenberg, chair of Universities of the Netherlands (UNL), the association of universities on Dutch soil. The institutions are soon to hold talks with the Ministry of Education to discuss their future.
The data above isn't definitive yet: The official numbers are usually published in February and might differ a little from the data unveiled now.
Advertisement