Petition against proctoring at Utrecht University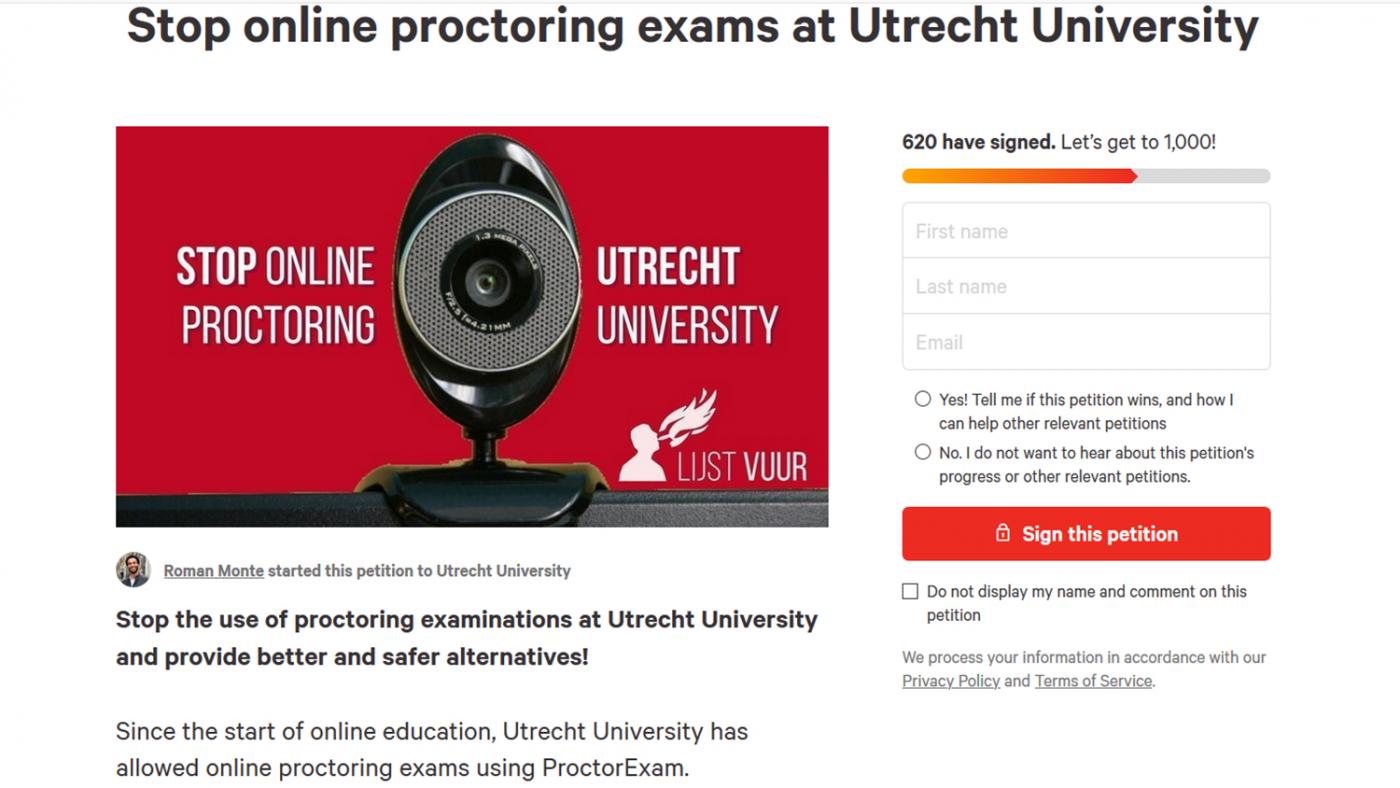 Screenshot van de petitiepagina van de Utrechtse studenten
Utrecht University has been using proctoring since the first online exam period. In this surveillance method, the student is monitored via webcam as they take their exam. The student also has to show ID to the camera, and they have to show the room in which they work. The software the UU is currently using, ProctorExam, also keeps track of what students do on their computers, according to students. All this is meant to fight fraud. The students say that it's not yet clear what the provider of the software does with all the information it receives from thousands of students. In other words: it's unknown whether the privacy is sufficiently safeguarded. Many wonder about this, including the UU's own data protection officer.
The students in the University Council fear there might be privacy leaks in the use of the ProctorExam software. In April, they requested the university board to stop this method of surveillance. They stated that there are plenty of alternatives for testing the knowledge and capabilities of students without using exam forms that (according to the study programme) need online proctoring. Although the board members empathise with the students' concerns, they don't want to ban proctoring. The board states that students aren't required to participate in an exam with online surveillance, and they can choose to take the exam at a later date when students are allowed back at the university again.
The students feel this alternative isn't sufficient. Student member Anneke Marien said: "Students shouldn't have to choose between their privacy or a delay in their studies." The student members are also angry that the University Council was not asked beforehand to provide advice about the use of online surveillance. For that reason, the students have started a petition to change the executive board's minds. By June 4, the petition was already signed by over six hundred people.
The UU students are not alone in their fight against proctoring. Previously, several political parties' youth organisations, student unions, and other student parties (including de Vrije Student, which is also active in Utrecht) sent a letter to the minister of Education, urging her to end online surveillance. Students are resisting online surveillance at universities of applied sciences as well: in Tilburg, Nijmegen, and Leiden, for example. The central student council of the University of Amsterdam is the first that has started legal proceedings to ban proctoring, although the UvA is using different software called Proctorio. Two universities of applied sciences decided not to use proctoring early on.