Ten questions about what the war in Ukraine means for Utrecht University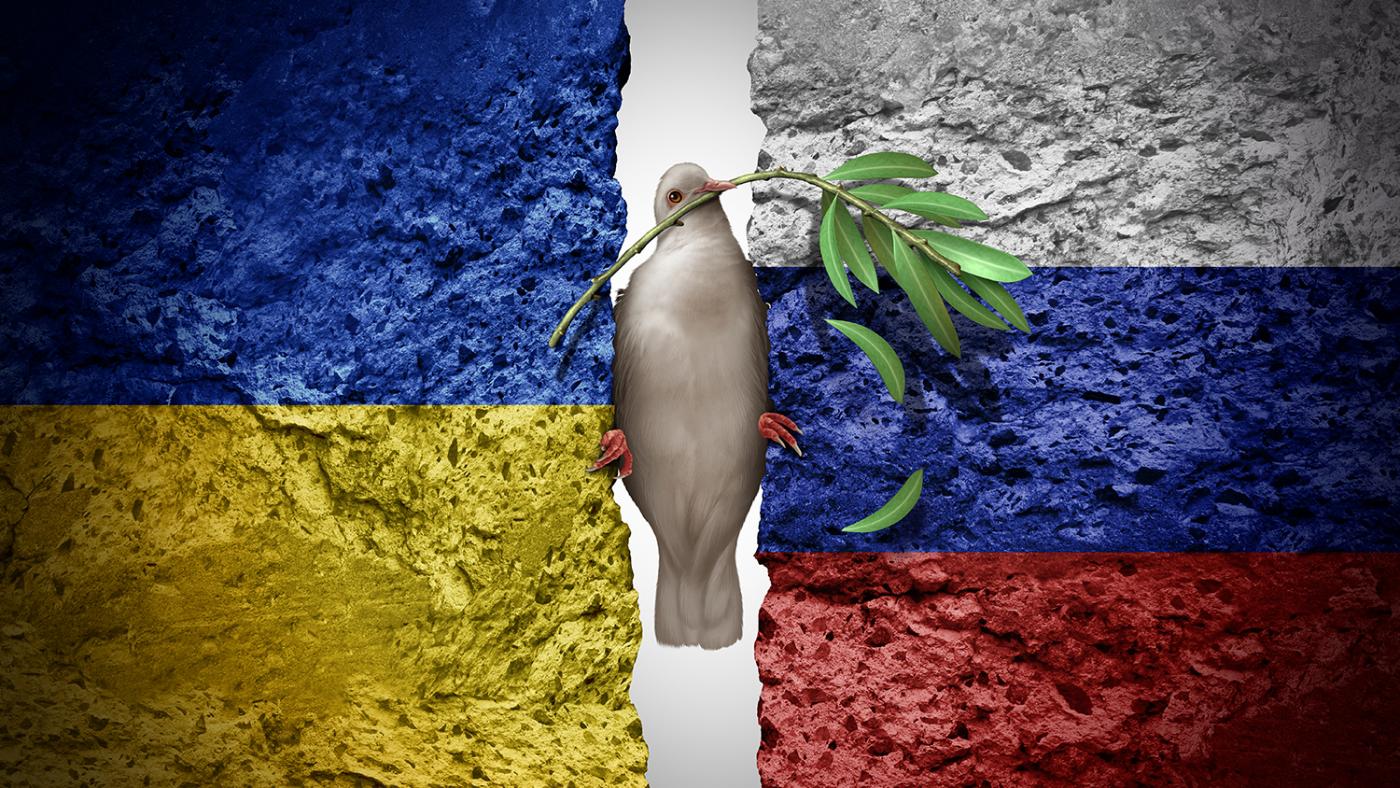 Photo: Shutterstock
One week ago, Russia invaded Ukraine, starting a war that astonished many. On March 1, Utrecht University posted a statement on its website declaring itself shocked as well. The Executive Board manifested its support to students and employees from Ukraine, as well as to members of the Russian academic community who condemned the war openly. "Let us work together towards peace, respect, dialogue, and open cooperation", wrote the university.
But how many students are affected by this conflict and what is the university going to do for them? What can the rest of the UU community do in order not to feel completely powerless? DUB answers UUers' most frequently asked questions surrounding the war.
How many of UU's students, academics and staff come from Ukraine? And how many come from Russia and Belarus?
There are twelve Ukrainian nationals studying at the university and ten working as scientists. As for Russians and Belarussians, there are dozens of them at UU.
The university says it is in touch with these students and employees. All of them received an e-mail in which UU lists the ways in which the university can help them. The university is also investigating possibilities to help them and support them further "in case of need, whether it's financial or otherwise", announces the board in the statement.
To what extent will the sanctions against Russia affect UU's students and employees? 
"Right now, the sanctions are not going to have any consequences for them, as far as we know and have heard", states a spokesperson for UU. "But we don't rule out the possibility that some of the sanctions – such as the ones related to payments, for example – are going to affect them in the near future".
How many UU students are in Ukraine, Russia or Belarus?
Currently, there are no UU students in these countries, as students were recently advised not to go there because of the coronavirus. UU has no exchange agreement with universities in Ukraine or Belarus, but it does have an agreement with two universities in Saint Petersburg.
Does UU have any cooperation agreements with universities in Russia, Ukraine and Belarus? If so, what is going to happen to them?
UU is involved with a few EU projects in which it collaborates with Russian and/or Ukrainian partners. The university is currently making an inventory of how many of these cooperation agreements it has, but it is waiting on the Dutch government to establish new rules or sanctions.
Is UU taking other measures because of the situation in Ukraine, like establishing new partnerships with countries bordering Ukraine, such as Poland or the Baltic countries?
Not yet. The university is also waiting for the Dutch government to make a decision in this regard. The government is expected to make announcements on Thursday, March 3.
Who is in charge of keeping an eye on the situation?
A group of employees comprising different departments is following the news and evaluating whether UU should do something about them. The university is soon going to launch an e-mail address to which the UU community can send questions regarding the war and how it relates to the university.
Are there any initiatives led by students?
This week, the students of entrepreneurship group Utrecht Inc started a fundraiser in the Kruyt building, in the Utrecht Science Park, to collect toiletries, diapers, medicines and the like. But the initiative was short-lived.
Economy student Ema Vrînceanu, from Romania, has joined forces with other expats to start a fundraiser. She says there is great demand for medicines for children and adults. Baby products such as formula, baby bottles and clothes are also welcome. Sleeping accessories, like blankets, mattresses and sleeping bags are needed, too.
The donations are going to be taken to Sighetu Marmatiei, at the border with Ukraine, where they will be handed to the Red Cross, which will then take them to Ukraine. You can find more information about the initiative on this Facebook page - it is private to prevent malicious people from joining it, but anyone willing to donate can become a member, says Ema. The first donations are going to be transported on March 8. 
How are Utrecht-based scientists helping?
Scientists from the whole world are making PhD, postdoc and research positions available. A Google Docs sheet is circulating, on which the names of two UUers appear: social scientists Willem Frankenhuis and earth scientist Oliver Plümper.
Plümper announced in the document that he has two positions for guest researchers, and possibly a postdoc position as well. He tells DUB that he is going to do his best to help people fleeing from the war. In addition to the announced positions, he's also donating money to charity organisations.
"It is just a really small contribution and it would be fantastic if it could make a difference somehow. Like many other people, I've got the feeling that the war is closer than ever and the attack against Ukraine is an attack against the free world".
More Utrecht-based scientists manifested their willingness to help through the Twitter account @ScienceforUkraine, such as Translational Regenerative Medicine Professor Jos Malda and Assistant Professor at UMC Utrecht Riccardo Levato. Both are offering internships.
If you are a postdoc, MSc, or PhD student at a Ukrainian university/institute in the fields of biofabrication, orthopaedics or regen med: our group at @UMCUtrecht & @UniUtrecht is offering paid internships to continue your research. #ScienceForUkraine @Sci_for_Ukraine. Plz email. pic.twitter.com/XwdGvJIe3H

— Jos Malda (@josmalda) March 1, 2022


"Here, all the way from the Netherlands, we can't do much to stop the war", says Malda, who is surprised by the attention his gesture received and how enthusiastically people reacted on social media. "But this a small thing that is possible".
Partly inspired by the stories told by an employee who has friends in Ukraine, Malda allocated funds to offer researchers from that country the possibility to conduct their research in his lab. They can also get support in the search for a place to live.
The professor doesn't expect many people to turn up shortly, considering that male researchers are not allowed to leave Ukraine. "But if we can be useful somehow, whether it's now or in the long run then we are going to arrange it".
Where does the gas with which UU heats up its buildings come from? 
Fossiel Vrij Hoger Onderwijs Utrecht, a group calling for higher education institutions to stop using fossil fuels, wondered on Twitter where the gas used by UU comes from. Much of the gas used in the Netherlands is supplied by the Russian company Gazprom, including the gas used by the municipality of Utrecht.
However, the university has a contract with Greenchoice. But, outside the Utrecht Science Park, several buildings are heated through the heating network supplied by Eneco, which states that it uses both biomass and gas.
A spokesperson says: "The vast majority, about 85 to 90 percent of Eneco's gas is purchased from gas suppliers that are not Russian. We also have a small number of contracts with Gazprom subsidiaries. Our position is clear: we are executing our existing contracts, but not entering into new contracts with Russian gas producers under these circumstances."
Do you want to learn more about the context behind the conflict?
For those who speak Dutch, Professor in Social Geography Leo Paul is going to give a lecture in the Theatron hall at Educatorium on Thursday, March 3. He is going to react to Putin's statement that Ukraine doesn't exist as a nation, it is only on the map due to a mistake by Lenin and Stalin. The lecture is not going to be transmitted online and you don't need to register to take part in it. Doors will open at 2:30 pm and will be shut once the hall is fully occupied, so arrive early to guarantee your spot.
Advertisement