Three days of Ancient Radio at Janskerkhof in run-up to large inter-frat party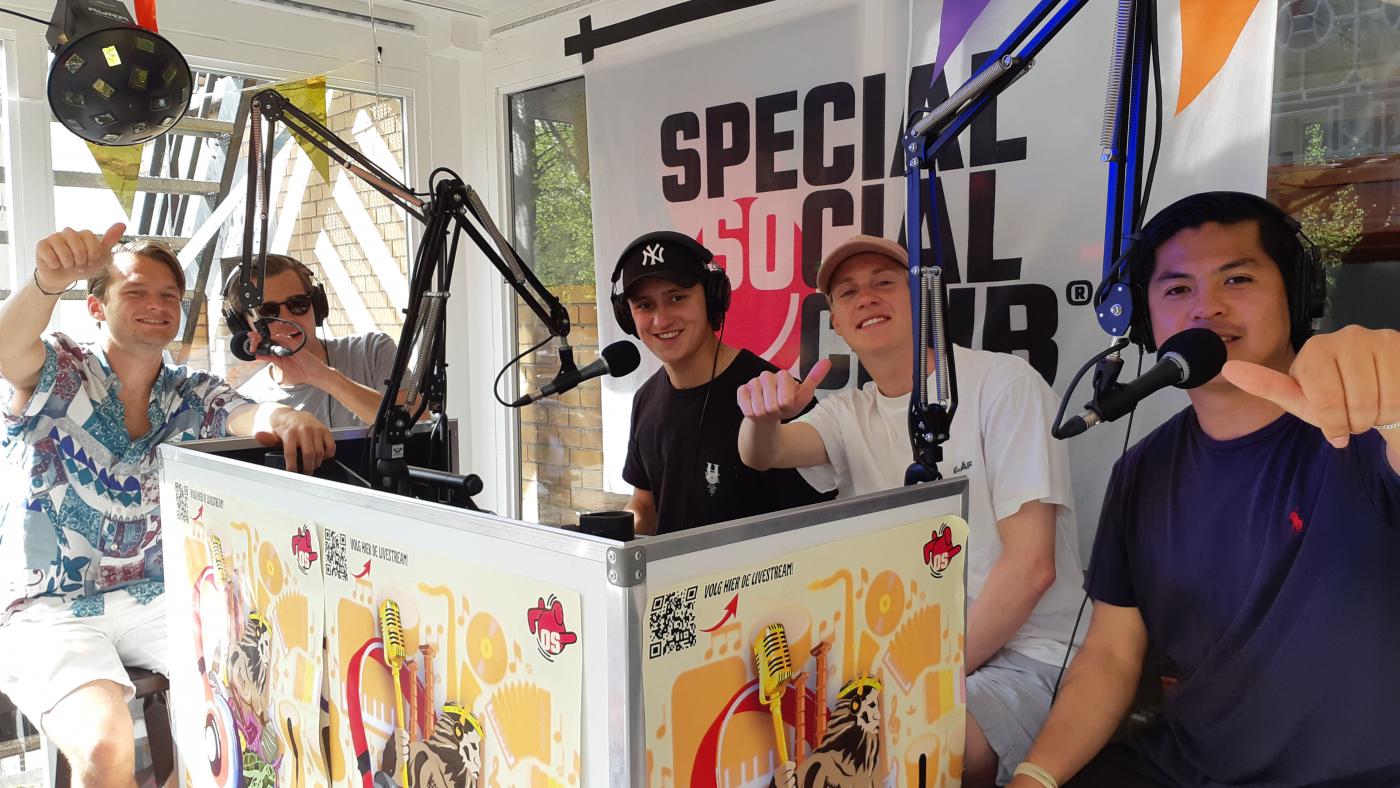 The six students presenting Radio Ancient. Photo: DUB
On Monday afternoon, four students from Utrecht sorority UVSV climb the stairs to the Ancient radio station in a glasshouse at Janskerkhof. They're bringing a bag of sushi. "We heard on the radio that you were hungry," one of them explains. They hope this act will earn them free tickets to the Ancient Party, a huge inter-fraternity celebration that will be held in the USC building later that week. The radio station is giving away two tickets every day. 
From Tuesday to Friday, 10 am until midnight, the six students – Pepijn, Sem, Coert, Stijn, Sebastiaan and Derrick – take turns presenting on the radio. At night, the DJs sleep in the association's Yellow Castle. It's a fraternity tradition to hype students up in the days before the annual Ancient Party, which always has a historical theme. This year's theme is Atlantis, so the entire building will be decorated to suit the theme. Students from fraternities all over the Netherlands will come to Utrecht this weekend. Students from other associations in Utrecht are welcome, too – although the 1,300 tickets for the three nights the party lasts were sold out quickly.
Special Social Club
The party is usually held in October, but the latest edition was postponed to April because of Covid. The radio shows aren't just meant to advertise the party: the initiative is also for a good cause. This year, they're raising money for the Special Social Club, a foundation that organises parties for young people with disabilities. "One person in our group has a disabled brother and was familiar with this organisation. The idea of throwing parties for these young people goes well with our own party", Pepijn explains.
People can donate money to the charity in the hopes of winning a big prize: the second-hand car parked on the pavement in front of the glasshouse. The fraternity is hoping to raise around 5,000 euros for the foundation. The radio station interviewed the organisation's founders and young people benefitted from it. On Monday, the volunteers who decorate the party room introduced themselves on the show. "And they all donated generously," Pepijn says.
You can listen to the radio until Friday, via livestream or the Instagram account ancientradio2022
Advertisement