University expands collaboration with Local2Local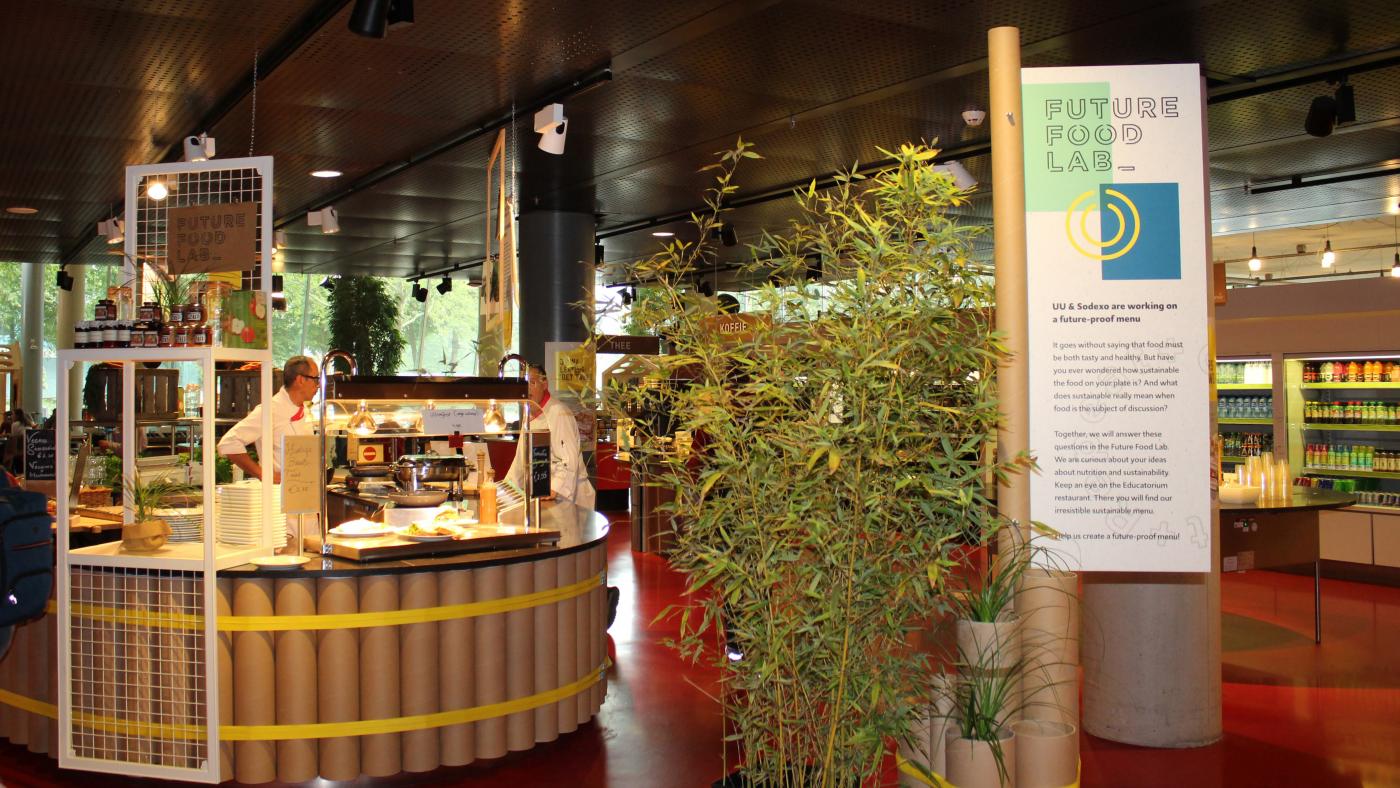 A collaboration between Local2Local, UU researchers, and the university' caterers at the Future Food Lab. Picture from 2019. Photo: DUB
Local2Local was founded in Utrecht around ten years ago as part of the "The Roof Garden Festival" (De Daktuin), which happened in 2013 on the rooftop of the University Library parking garage, in the Utrecht Science Park. Some of the founders of the festival came up with the idea to approach farmers in the area and work with them to promote the sale of local products.
"You could say things were quite amateurish at the time, but it did prove to be a brilliant move to have local farmers join forces and ensure their products would be sold in their own areas," says Mark Frederiks. In addition to helping local farmers, promoting sustainability was one of their key motivations.
Local farmers
In the past ten years, the business has grown and become more professional. At a central level, the company is now called Amped. Based in a fort in Houten, it employs around 15 people. These consultants help companies looking to make their products as sustainable as possible. There are also Local2Local groups working specifically on selling local farmers' products. They've got their own website, and their work includes getting in touch with restaurants and organisations (public and private) to have local produce delivered directly to their door. The company has also built networks in other provinces of the Netherlands. The ambition is to expand nationally.
Throughout the past ten years, the company has never stopped collaborating with Utrecht University. Local2Local assists the university with its Groentetas (Vegetable Bag, Ed), for example. The organisation has also participated in festivals at the Utrecht Science Park, such as the Foodnote Festival and De Maaltuin ("Meal Garden", Ed). In addition, they have collaborated with UU's former caterer to set up a Local2Local square offering local products in the Educatorium restaurants. Local2Local also works closely with UU's current caterer, Eurest.
Sustainable food chain
"The new agreement confirms and strengthens the already existing connections", Frederiks explains. That means the initiatives in the university's restaurants will be maintained and the parties will extend their collaboration in education and research.
"That's great news for us," says Johan Garssen, UU Professor and Chair of Future Food Utrecht, a platform created and run by UU's scientists and social parties who collaborate on the transition to a sustainable food chain. "Think about the way food is produced. If the climate changes, what will that mean for farmers, and how can they anticipate these consequences? But we also look at health matters and consumer behaviour. By collaborating with Amped, we have access to practical information that we can use for our research, such as the way farmers grow their crops, how they process their products, and how they react to innovative possibilities. When we started offering local food at Educatorium with Local2Local, we were able to study which local products were popular amongst students and employees and to what extent sustainability influences their choice of lunch".
Fruitvolt and pear vodka
Garssen is glad that the agreement also foresees more internship possibilities for students. "We've got students doing internships at Danone, but it would be just as great if they could spend some time at a company like this one."
Frederiks agrees. "In the past few years, around eight hundred UU students worked with us as interns. Some conducted research for their theses but there were also students who developed a business idea and started their own sustainable businesses afterwards. One of them is Fruitvolt, a startup using solar energy in orchards. Another startup is turning pear juice into vodka and a third is making a windmill operate on wood chips." 
In short, the new partnership is meant to strengthen the existing one. Frederiks: "We started out here in Utrecht, so it's great that our connections here keep growing".
Advertisement