Thanks to book on environmental history
UU Professor Geert Buelens wins prestigious Belgian literary award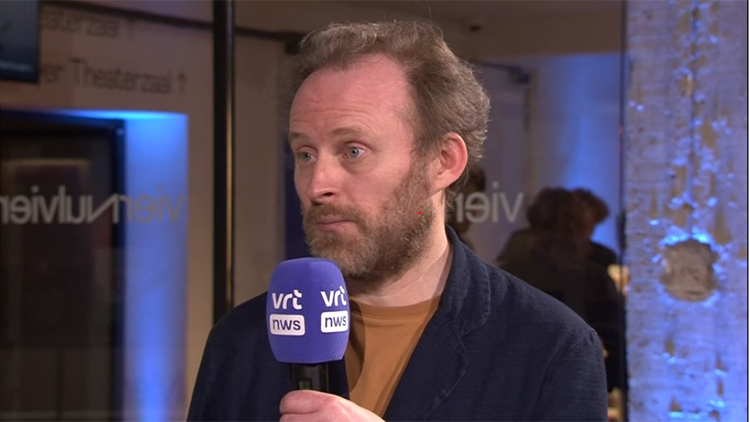 Geert Buelens being interviewed by VRT.
"I can't believe it," exclaimed Buelens when the panel of judges announced that his non-fiction book, Wat we toen al wisten — De vergeten groene geschiedenis van 1972' (In English, "What we already knew back then — The forgotten environmental history of 1972") won the biggest literature award in Belgium. The awards were announced on March 30 in the city of Ghent, Belgium. Fiction books are included in the same category and the shortlist was filled with them, including works by Tom Lanoye, Emy Koopman, and Nina Weijers. "It's amazing that the jury chose the only non-fiction book on the list."
"This is an in-depth, unconventional, relevant, and extremely well-written non-fiction book," the panel of judges wrote. "Buelens writes a cultural history linking the personal to the scientific, the political and social debate to literature and other arts, and the almost forgotten climate awareness of 1972 to contemporary times."
A report titled The Limits to Growth, by the Club of Rome, which was published in 1972, is Buelens' starting point. At the time, there was already the realisation that the growth in population and industry would have major consequences for the environment. Buelens describes this realisation through personal memories, such as an advertisement from Esso in which the gas station chain offered a free picture of an animal for every 20 litres of gasoline bought. The campaign was meant to raise money for a safari in Sumatra. He also talks about philosophical movements promoting environmental awareness. For those who speak Dutch, DUB has published a review of the book.
"I think the jury has taken into account how relevant this topic still is," the professor said in an interview with Belgian TV channel VRT. He will use the money to "buy time", meaning to enable himself to write books aside from his work as a professor. Buelens has published a cultural history of the 1960s as well.
Remarkably, two of the shortlisted candidates are scheduled to give a lecture on the Public Day for Dutch Studies (Publieksdag Neerlandistiek), which will take place in Utrecht on April 15. Inspired by his prize-winning book, Buelens will talk about the omnipresence of fossil fuel company Shell.
Advertisement