UU to tackle housing problem of international students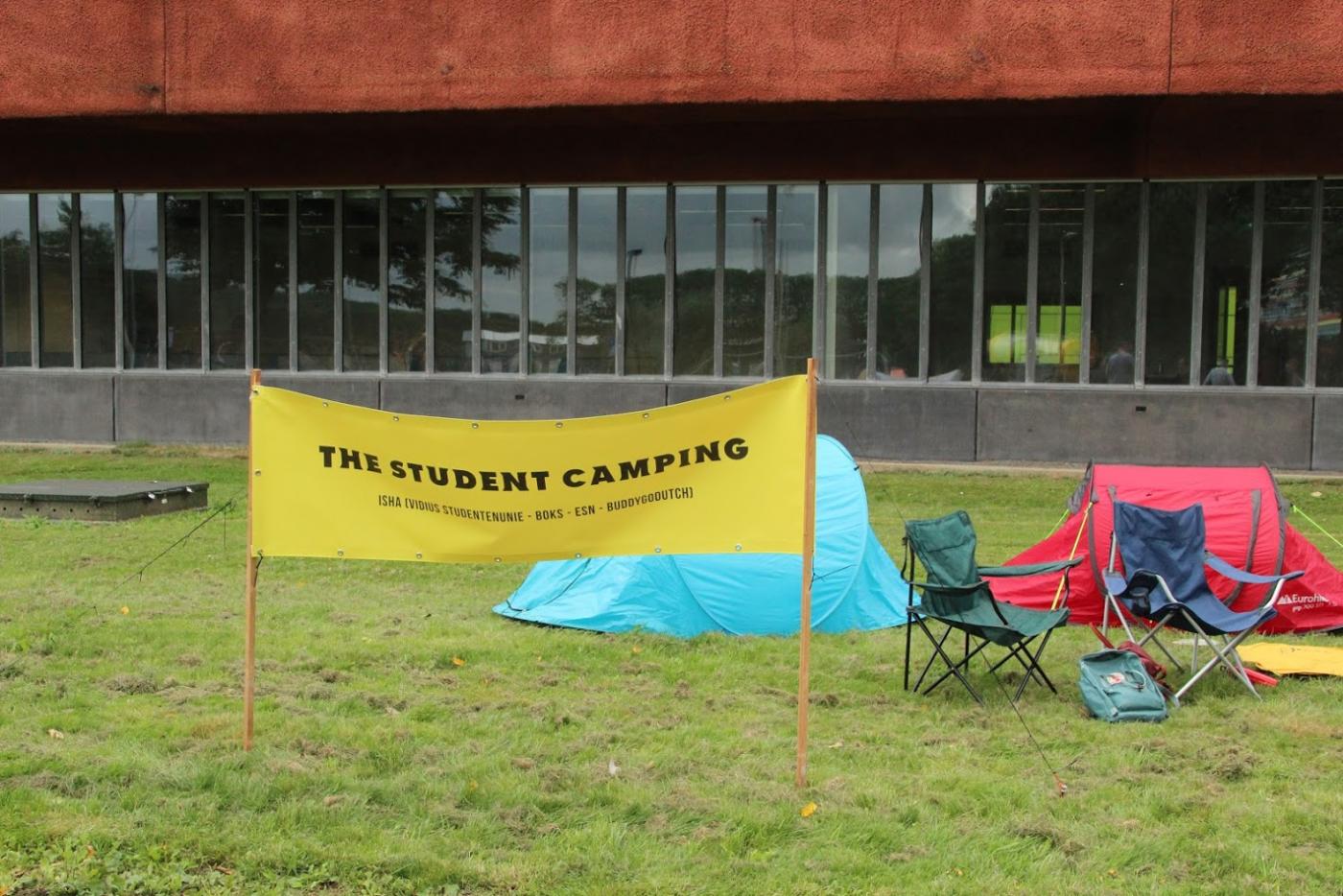 Last year students protested against the shortage of housing for international students. They started a temporary camping in De Uithof. Foto: DUB
With the 300 euro fee, the university wants to control the expenditures for housing international students and PhD candidates. The university expects to have to spend a lot more money in the coming years to house international students, as they have to reserve more rooms with SSH Utrecht and other housing organisations.
That leads to more costs, because reserved rooms are sometimes unoccupied – during summer, for instance, or if tenants leave suddenly. Last year, the university had to spend 360,000 euros on this. Around half of that sum was then compensated because many rooms can be let temporarily during summer for the Summer School.
The fee – which has long been in place at other Dutch universities – will be implemented in early 2019. The fee will only be charged to students who are assigned a reserved room.
No legal issues 
According to a memorandum discussed in the University Council, PhD candidates will also have to pay the fee. At the behest of the Utrecht PhD Party council member Nico Naus, the university council will re-examine this. PhD candidates, Naus says, often come to Utrecht by invitation, and in many cases also receive the status of UU employee.
When talking the plans through in the University Council, people also voiced their worry that a fee would cause legal problems. In the past months, multiple lawsuits led to rulings saying landlords aren't allowed to charge so-called 'key money', or initial fees to be paid when signing the rental contract. The university board says thorough research has been done and there's no problem.
Pressure on rooms increases 
At the moment, the university is reserving around 770 rooms for internationals, in SSH buildings and student housing at the Vliegent Hertlaan and the Willem Dreeslaan. That collection of rooms is sufficient to house between 30 and 40 percent of international students (both exchange students and full degree students) in their first year.
But the pressure on the available rooms is increasing. The international student population has been growing steadily for the past few years, to a current total of 3,500 degree students and exchange students combined. The National Monitor Student Housing is predicting a 30-percent rise in Utrecht before 2025.
In the memorandum sent to the University Council, the university board expresses the wish to eventually be able to house half of new international students in their first years, to prevent students from falling victim to slumlords, or even from ending up in the streets – situations that would be bad both for the students, but would also lead to negative publicity for the UU.
Short-term goal is to have the number of available rooms increase to 900. That's not easy to accomplish. It's hard for the university to do business in Utrecht's overwrought housing market. Waiting times with the SSH have gotten longer in the past few years as well.
Planned finish date can be a problem 
The university hopes to be able to use the expansion of the number of student housing units the city has planned. Before 2021, construction of 3800 new homes is planned to take place. The city is also currently researching whether a former refugee centre in Overvecht can be converted to student housing.
Earlier, it'd been announced that the university board will reserve an additional 285,000 euros to battle the housing problems. Lenn Lamkin, policy advisor at the department of Student Affairs and International Office, says the money is mostly meant to be able to claim rooms for international students in new housing complexes that aren't finished at the right time.
In total, the UU is budgeting over a million euros to cover that risk. "Sometimes, places become available in November or April. Those are very tricky to fill immediately. That's what you pay for."
UU wants a hotel ship 
At the same time, Lamkin says, the university does all it can to cushion the enormous peak of students coming in August and September, reserving 36 beds at StayOkay, and making an option reservation for 40 beds at the recreational camp Het Grote Bos in Driebergen. They're also renting out empty SSH rooms as 'temporary summer accommodation', for students who come to Utrecht during the summer to find their rooms. Additionally, the university is in negotiations about the temporary rental of a hotel ship with around 70 places. Lamkin: "It's still uncertain whether that'll be possible."
Lamkin hopes UU students going abroad will consider subletting their rooms to international students. That happens very rarely currently: most students know a friend or two they'll sublet the room to. And there's the problem that rears its head again and again: many students aren't all that enthusiastic about having a non-Dutch housemate. It's easily proven when reading through Kamernet ads, where many say 'no internationals', and was also the result of a study done by ISHA, advocacy organisation for international student housing, last year.
The SSH had already done a pilot before, in which international students could interview for rooms in Utrecht through Skype. This'll be followed by another trial in July and August, in which all SSH unites where a room becomes available will also see a handful of international degree students on the list of potential housemates.
The UU has taken measures before to inform international students about the low availability of student housing, and to point out how to find a room on their own. In marketing and communication, it's made clear in all possible ways that studying at the UU in no way provides a guarantee for a room, and students should be prepared. Lamkin: "Of all the UU webinars, the one about finding a room is the most-watched."
Related story:
SSH houses where a room will free up this summer, can choose whether they want a Dutch housemate or an international one. Between mid-July and mid-August, around 250 housing units are expected to have the possibility of having an international degree student come interview for a room - through Skype, for example.