DUB's Student Podcast discusses the normalisation of drug use
'Can I still enjoy a party without drugs?'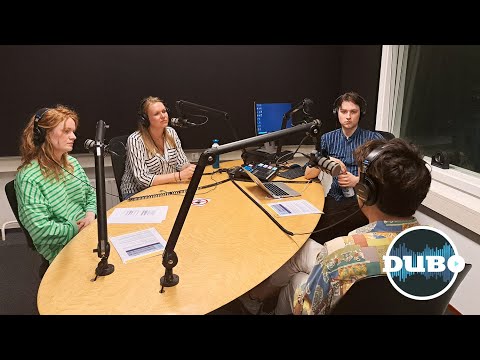 Podcast over drugsgebruik onder studenten: 'Kan ik nog wel genieten van een feestje zonder drugs?'
It's not a secret that students in the Netherlands are more likely to experiment with hard drugs since the Covid-19 pandemic. Why is this happening and what makes drugs so appealing? And what are their downsides? Robert Mazier, a student in the Media & Culture Bachelor's, feels like students have a different view of drug use compared to the outside world, which is why he decided to cover this topic on this episode of the podcast (in Dutch only). He doesn't use drugs himself, but he does drink alcohol. "Students are proud when they have their own beer tap in their room. But no one talks openly about hard drugs."
Gillian is a Medicine student and he uses drugs. "If I told my parents that I drink alcohol, that wouldn't be a problem, but if I were to tell them that I use drugs, that would be much harder. It's a taboo."
Jente agrees. "Once, at a family party, I asked them how these things were back in the day. They didn't know anyone that used drugs in college. But if I asked the same question to my housemates, everyone would know at least one person who uses drugs regularly."
Gillian says it all started during the pandemic when students would throw a lot of house parties. "We were all home, in a safe environment, so taking something was easy. That basically stuck around after Covid. I don't get surprised when someone grabs a little bag of cocaine at a party."

​Free testing
According to Michelle van der Horst, Project Manager in Student & Substance Use at Trimbos Institute, one should put this phenomenon into perspective. The vast majority of students do not use drugs. Excessive alcohol use remains the biggest problem among this demographic. "Alcohol is socially accepted but, at the same time, it's addicting and harmful. So, it's problematic to tackle the issue. We see more abusive behaviour and traffic accidents as a result of alcohol use. But we do address drug use as well, even though that's a relatively small group. There are signs that drug use is increasing but we don't have any data about that yet."
In Ter Horst's view, the increased attention students have been paying to drug use stems from student associations. UVSV has recently addressed the issue with a dedicated conference and a campaign called Where do you draw the line?  "In itself, that's a good thing but this additional attention gives the impression that practically all students use cocaine, which isn't true."
Even though most students do not use drugs, you could say that they are getting more interested in it. Apart from alcohol, students use cannabis, XTC, ecstasy, cocaine and, to a lesser extent, designer drugs. Trimbos Institute would like to help students taking hard drugs assess the risks. For example, here in Utrecht, they can go to the Jellinek clinic to have their drugs tested safely and for free.
Positive and negative effects
The use of designer drugs is particularly hard to check. The composition of the so-called NPS drugs (an acronym that stands for "new psychoactive substances") is constantly changing. The well-known drug 3-MMC was banned in 2021 but has been meticulously tweaked ever since until it technically became a new drug. That means it needs to be examined but that takes time. If this new drug is banned as well, the market will tweak it slightly once again. Ter Horst: "A new law is in the works that will ban certain substances instead of banning the drugs. That will make it easier to point out certain things. We're investigating what certain substances do to your brain, their risks and side effects."
Trimbos and Jellinek also focus on prevention and guidance. They collaborate with Utrecht University and the Utrecht University of Applied Sciences. For example, students can have a chat to see how problematic their drug use is. Van der Horst: "We won't say 'this is not OK' right away. Students often ask us how frequently they have to use drugs for it to constitute a problem. But that's not how it works. We first inform them about the risks of drug use and then we try to give them insight into their own use. Do they feel like they could do without drugs? Does drug use influence how they function academically and socially?"
Gillian can relate. "I see both positive and negative effects when it comes to drug use. It stimulates you, so you can really have fun experiences and loving moments. But you have to watch out: you don't want to experience so many positive effects that it becomes a negative thing. After using ecstasy, for instance, people usually get low. They shouldn't try to get rid of that slump with another substance. I've seen students who struggle to enjoy a party if they don't take drugs. That's not good."
But he guarantees that group pressure does not bother him. "I think I can indicate my boundaries. But I can imagine that if you're with a group, having drinks, it's easy to join in. Or if you're having a bottle of wine together to relax after an exam."
Jente says you should also take a good look at your motivation for using drugs. "You should never use drugs or alcohol to escape your problems." Gillian adds: "I know people who take ketamine or smoke a joint because they can't sleep otherwise. That's not healthy."
Not as common as alcohol
Michelle van der Horst advises students to talk about drugs and be aware of why they use them (or not). On Trimbos' and Jellinek's websites, you can find information about the consequences of drug use. Asked whether drugs should be normalised and available freely, van der Horst is reluctant. "Only a small percentage of the population takes drugs, so it's definitely not normalised. Making drugs freely available isn't the way. As for therapeutic use, that is still being studied. If you want to eliminate the relationship between drugs and criminality, you can only do that if the entire world joins in. If you just do that in the Netherlands, it won't do much."
Gillian also has doubts about whether drugs should become as normalised as alcohol. "I don't think it should remain a taboo. We have to be able to talk about it. If you feel unwell at a festival, tell the first aid personnel what drugs you took. But I don't think drugs should be freely available."
Advertisement