Five months of rejection, scammers, and confusion
Housing diaries: A non-EU student's journey towards finding a room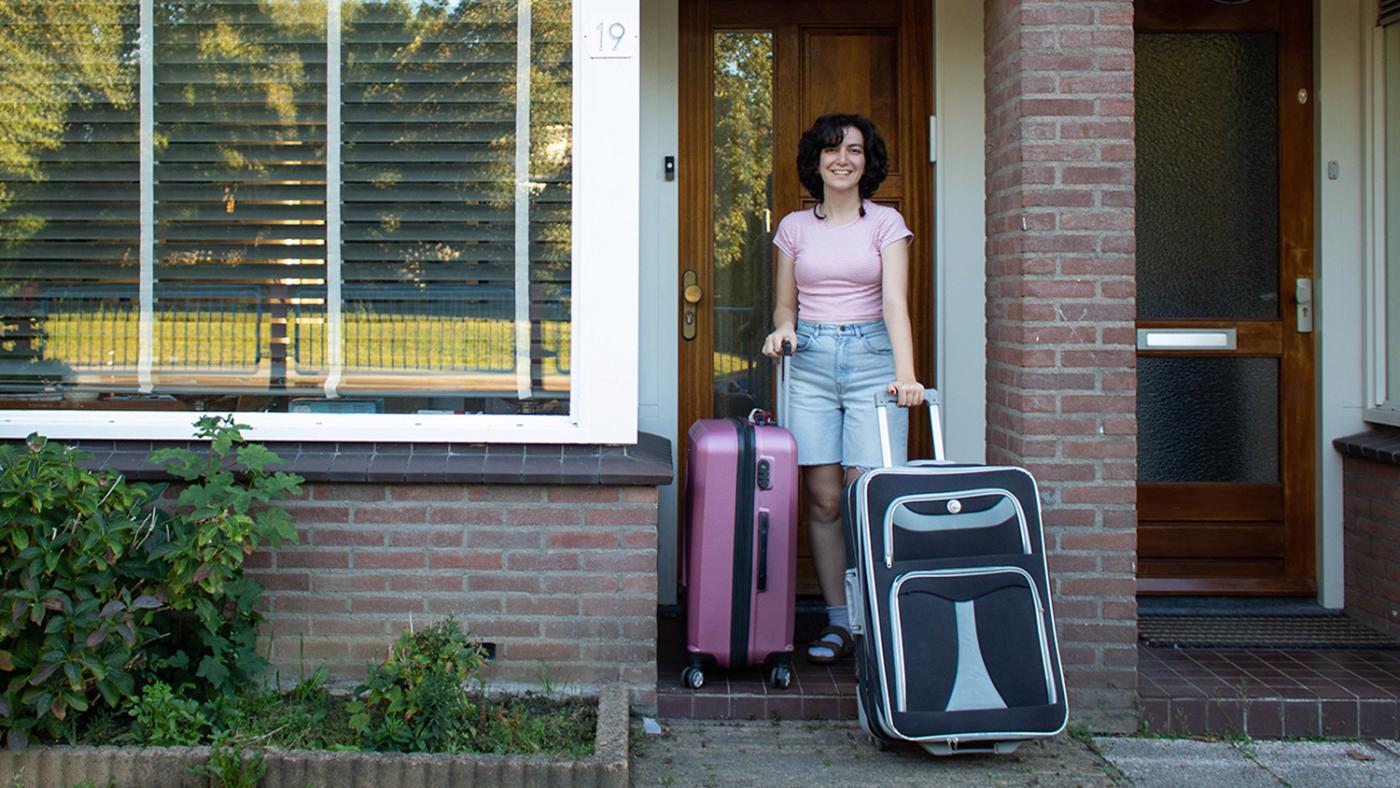 Photos: Tara van den Broek
April 2023
Admitted to Utrecht University
I am so excited to study at Utrecht University! The Netherlands is known for the quality of its education and it's not far away from Turkey. My parents have a visa so they can go there right away if anything goes wrong. I also have relatives living in the Netherlands, who can help me with practical matters. The only downside is the housing crisis. Everyone recommends starting your search as early as possible, so that's what I'm going to do. Wish me luck!

Looking for a place with my partner
My partner is going to study at TU Delft and my relatives told me that commuting by train is doable. So, we decided to share an apartment in a city where transportation would be easy for both of us. We're considering Gouda and Rotterdam. Our budget is 1,500 euros and we'll be using the websites Funda, Kamernet, Pararius, Rentola, Huurstunt and Huurwoningen. Ideally, we would like a furnished apartment with two bedrooms, near a train station.

Confusing terminology
It's been hard to find apartments that meet our criteria. I've been dedicating about two hours a day to this search but a lot of the time is spent figuring out logistics and terminology. For example, what do they mean when they say "inclusive"? What is a makelaar (real estate agent, Ed.)? How much would transportation cost us and is there any way for us to get a discount?
An interesting difference in terminology concerns the number of rooms. In Turkey, when people say that an apartment has two rooms, they mean a living room and two bedrooms. In the Netherlands, the living room also counts as a room.

Furnished or unfurnished?
It looks like our budget is too low to get a place that meets all our criteria, so we've expanded our search to include unfurnished flats as well. We were afraid to do that at first because furniture is really expensive in Turkey. Thanks to friends, I've discovered that there is a thriving second-hand market in the Netherlands, through platforms like Marktplaats and Facebook Marketplace.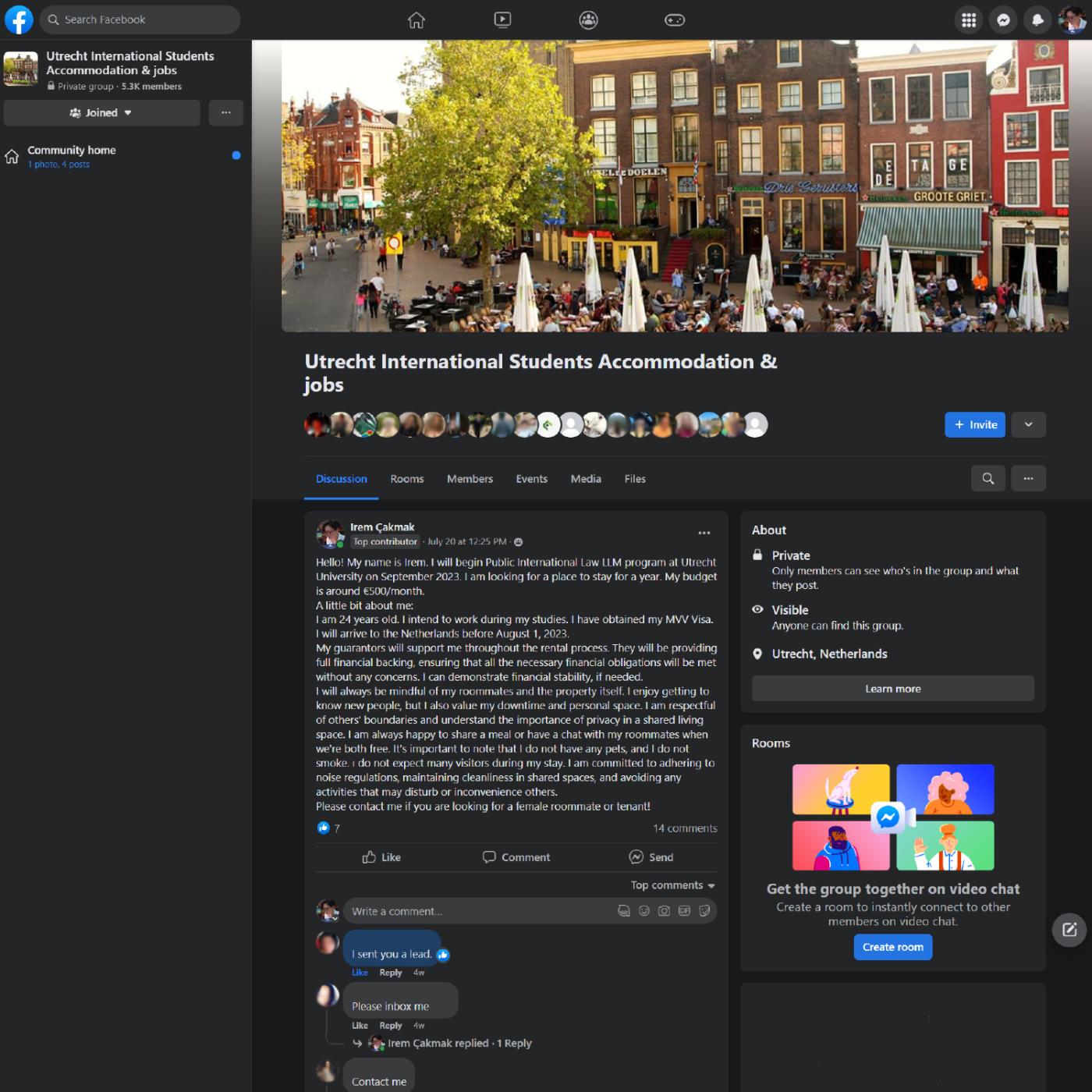 May 2023   
No answers
I've prepared a text about myself and my partner, so all I have to do is copy and paste when I spot a suitable ad on Kamernet and the other websites. So far, most of my messages were not answered.
Registration
I've noticed that many ads say that it is not possible to register yourself in the municipality as a resident of that address. So, even if those apartments meet our criteria, we have to let them go because foreigners need to register their address at the town hall within five days of their arrival.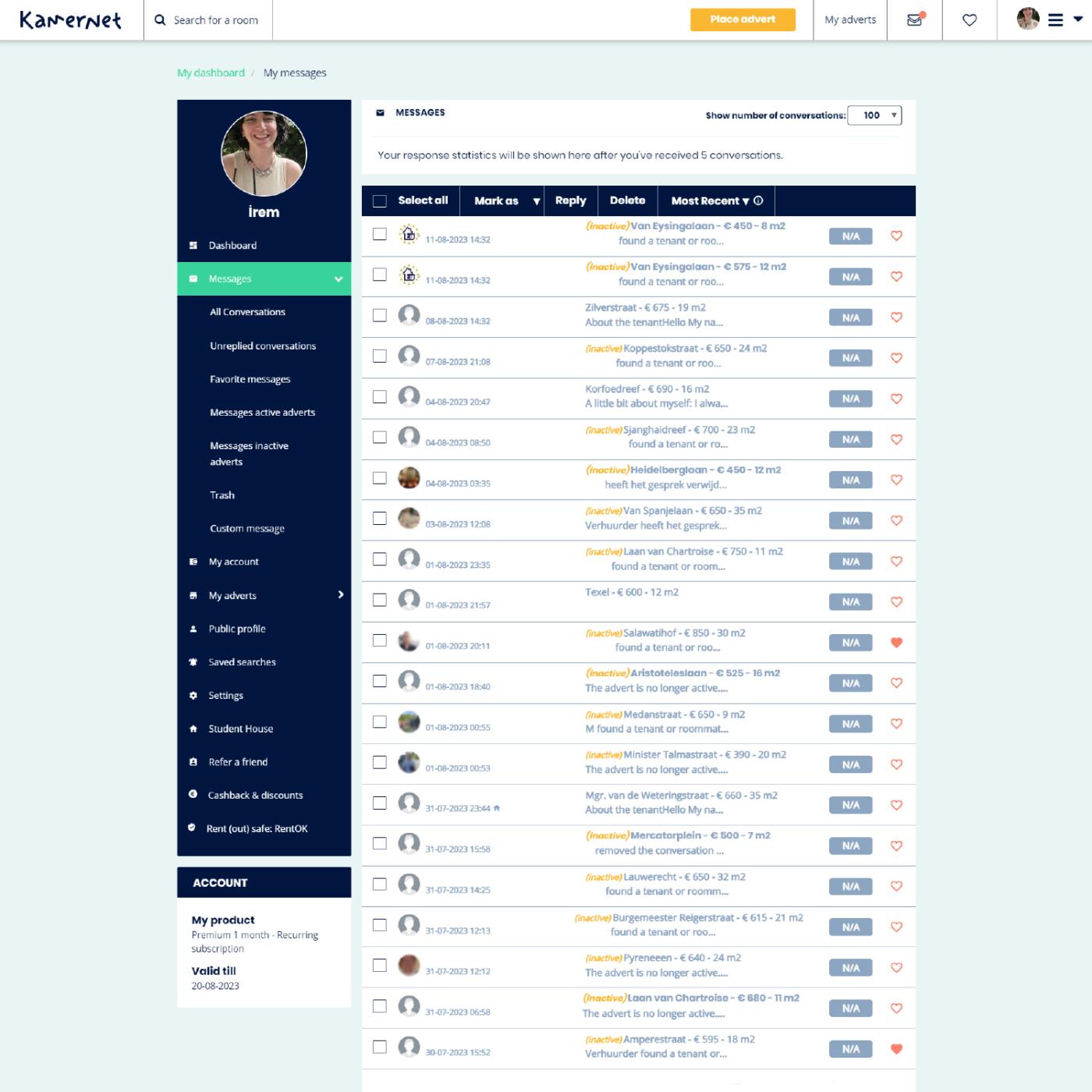 Facebook and its scammers
I've been warned that there are a lot of scammers on Facebook, but I figured it wouldn't hurt to give it a try. So, we've joined several groups. In two weeks, we received 50 messages, all of them from scammers.
After a while, you just learn their tactics. Usually, the offers are too good to be true and they want to get money from you before even giving you the key. They send you pictures and videos of the apartment and then say that they can't show it on camera because they are not in the Netherlands at the moment. In an attempt to get you to trust them, some will send a photo of their passport or a screenshot of the ownership documents. But both of these things can be easily falsified with Photoshop.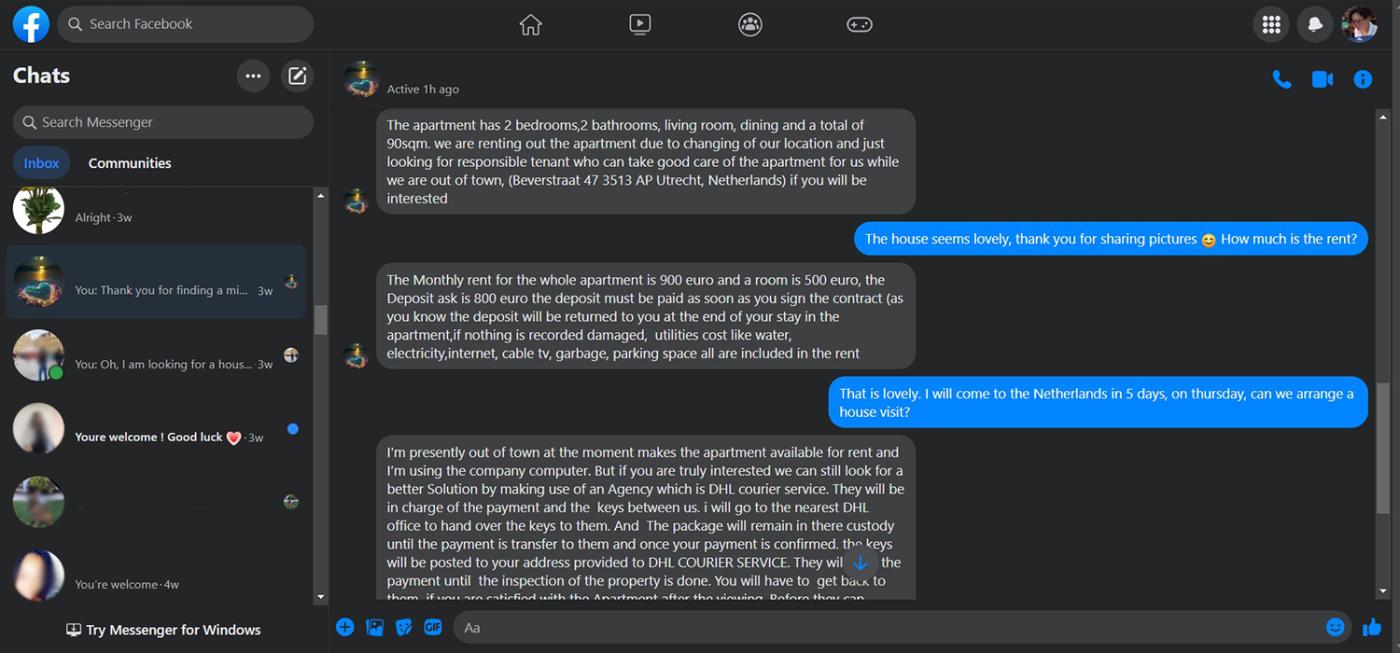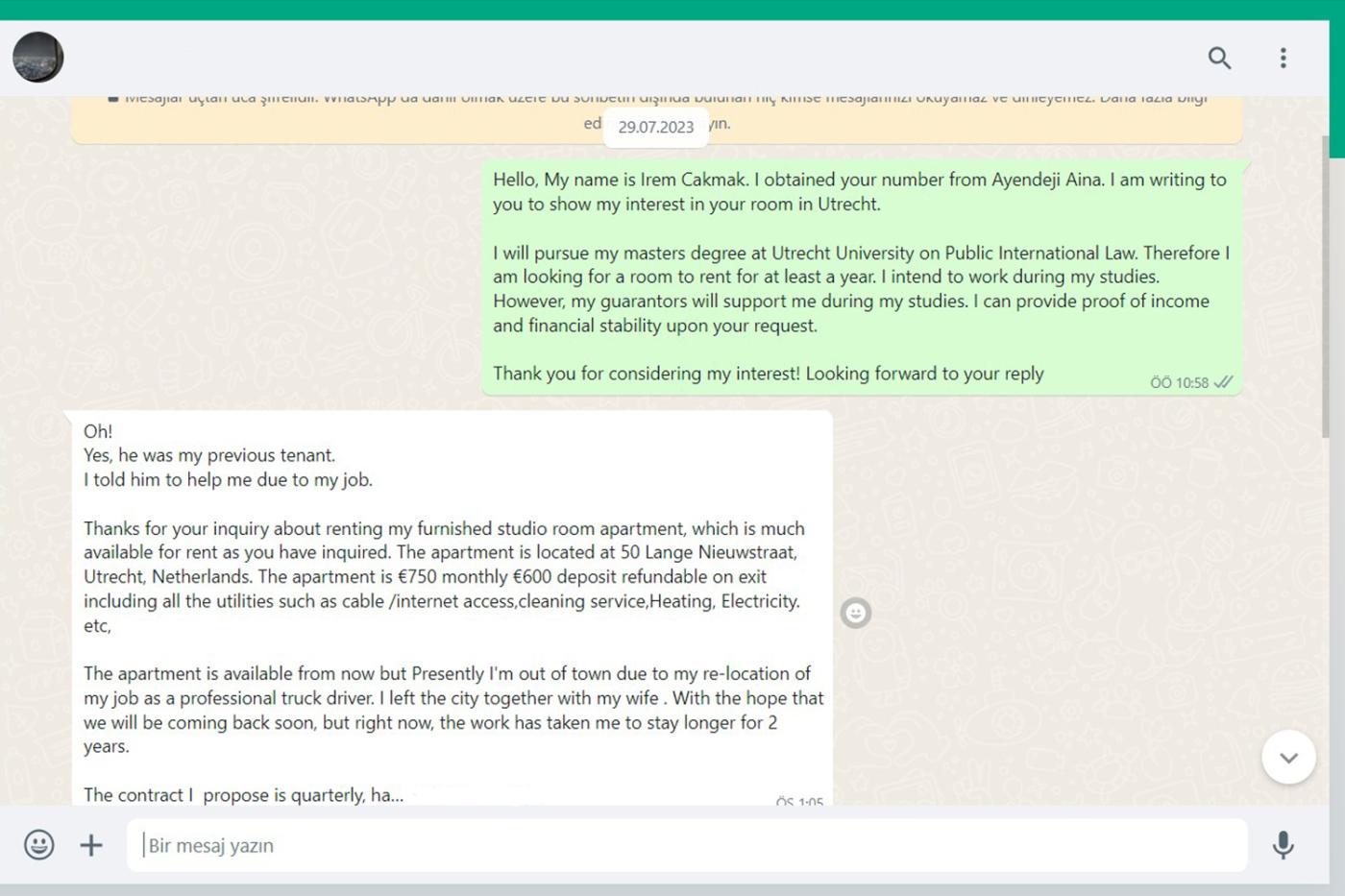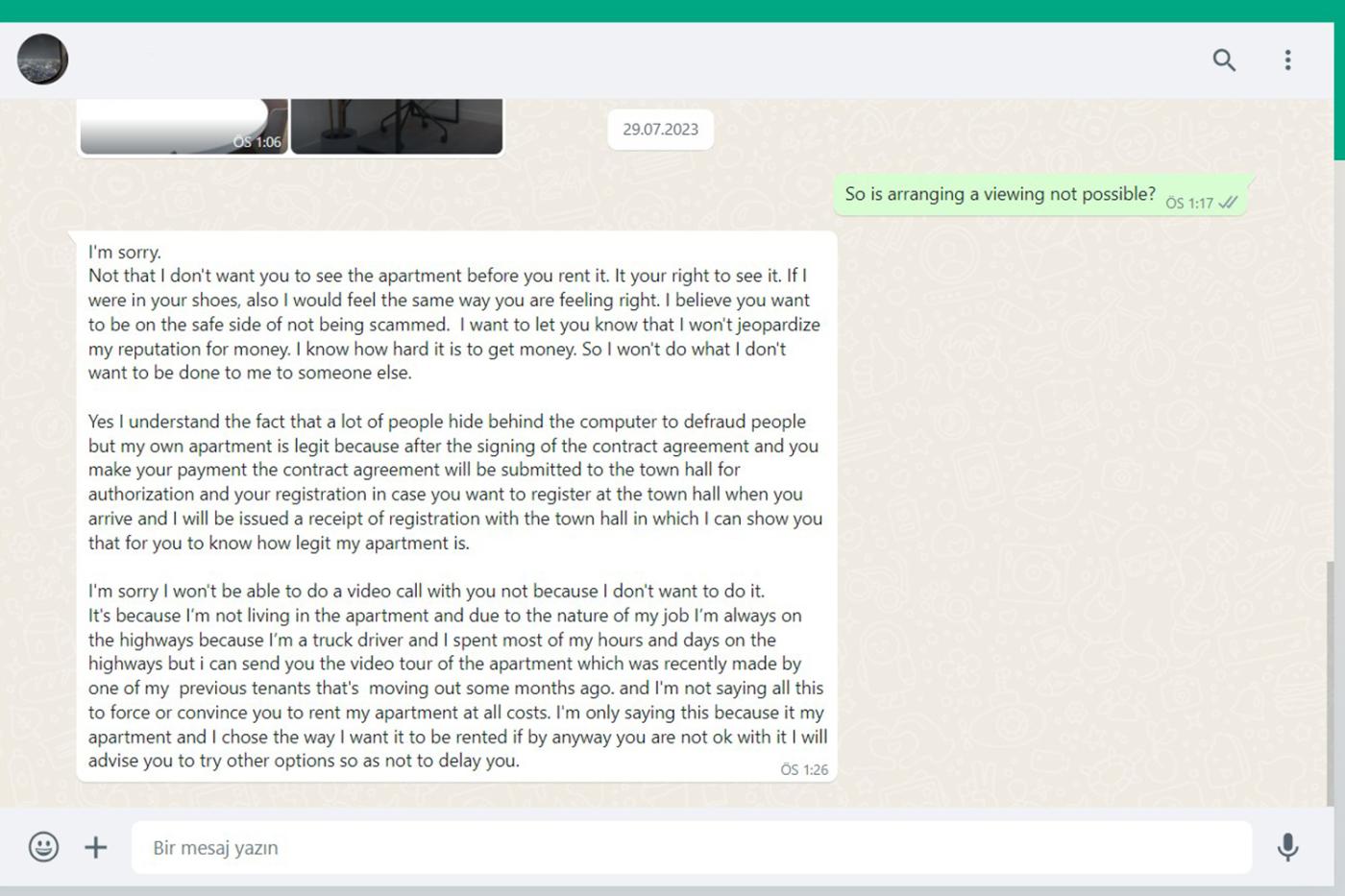 Above: screenshots of housing scammers
I also came across a Facebook group that has a list of scammers, updated from time to time. Every time I start talking to someone, I check if their name is on that list. So far, none of the names have matched but then again, it's easy to create a new account. That's a good tip, by the way: always check out their profile. If it was created recently, that's a major red flag. Don't forget to check the number of friends they have and whether the basic info matches the story they're telling you.

Google Street View is another great tool to catch scammers. Look for the building where the apartment is supposedly located and compare it to the photos and videos they sent you. Do the windows, balcony railings and outside view look the same?
If you spot a shop underneath the apartment, you might want to call that establishment to ask if it really is for rent. We caught one of the scams that way.
Another great tip is to use Kadaster's website. That's the Netherlands' Cadastre, Land Registry and Mapping Agency. For a small fee, you can check who owns a certain property. I used Google Translate to navigate through their website.
Despite all these efforts not to waste time with scammers, we ended up talking to one for way too long. He was advertising such a nice place that we were really hoping it was legit.
June 2023
Devastated
We found an apartment in Rotterdam that seemed too good to be true but it was true. It was a 20-minute walk away from the station, it had two bedrooms, and the rent was 1,000 a month inclusive. A makelaar (real estate agent) was involved.
We sent all the documents but, unfortunately, our visas to enter the Netherlands were not ready yet, so we couldn't view the apartment in person. My relatives did it on my behalf and they said the flat was OK. We even had a video chat with the landlady but, ultimately, she decided not to rent for us because she never saw us in person. That was devastating. We were this close to closing a deal and we had our hopes high.
July 2023
Going our separate ways
After this blow, my partner and I decided to live separately. It wasn't an easy decision but there was no other option. We thought that living together would be much cheaper because we'd be sharing all the costs, but we've got nothing and it's already July. We might have better luck looking for rooms in our respective cities. My budget is 700 euros.
He finds a room, I don't
I guess the housing shortage is not as dire in Delft as it is in Utrecht. My partner got a nice room in a hotel called Student Hub.
This means I'm on my own now. Although it's nice to know that I can count on relatives who wouldn't let me end up on the streets, I'd rather live on my own because I don't want to disturb their lives.
I'm now dedicating about six hours a day to my search and I'm sending five to six messages a day. I am considering not only Utrecht but surrounding cities such as Zeist, Nieuwegein, De Bilt and further cities like Amsterdam. Even though I know I will spend a significant amount of my time travelling, I am in dire need of finding a roof over my head. I just leave the tabs open and refresh the browser every five minutes because being among the first to reply is key. I'm basically replying to any advertisement I see, even if I don't meet the criteria. I'm that desperate.
Psychological impact
Disregarding the requirements wasn't the best move. In Turkey, landlords are more flexible: if the ad says that only working students will be accepted, and you have no job, you can still give it a try. You can tell them that you're not working yet but you are looking for a job and should be employed in three months. Sometimes that works. In the Netherlands, however, landlords are not willing to move an inch. I wouldn't recommend proceeding as I did because I was rejected so many times that this has started to affect my mental health. I've been in a negative mood.

Move to the Netherlands
August is just around the corner. We've decided to move to the Netherlands even though I haven't secured a place to live. Otherwise, the plane tickets would be too expensive. Hostels are crowded and you have to share the room with lots of other people, which I don't like, and hotels are expensive. So, I went for short-term accommodation through Kamernet. I managed to find a temporary apartment in Overvecht, where I will sleep for 10 days, until August 6. We are not signing a contract because it's only for a short period of time. I paid the deposit and rent in cash because I don't have access to my Turkish bank account and I need a BSN number to make a Dutch one.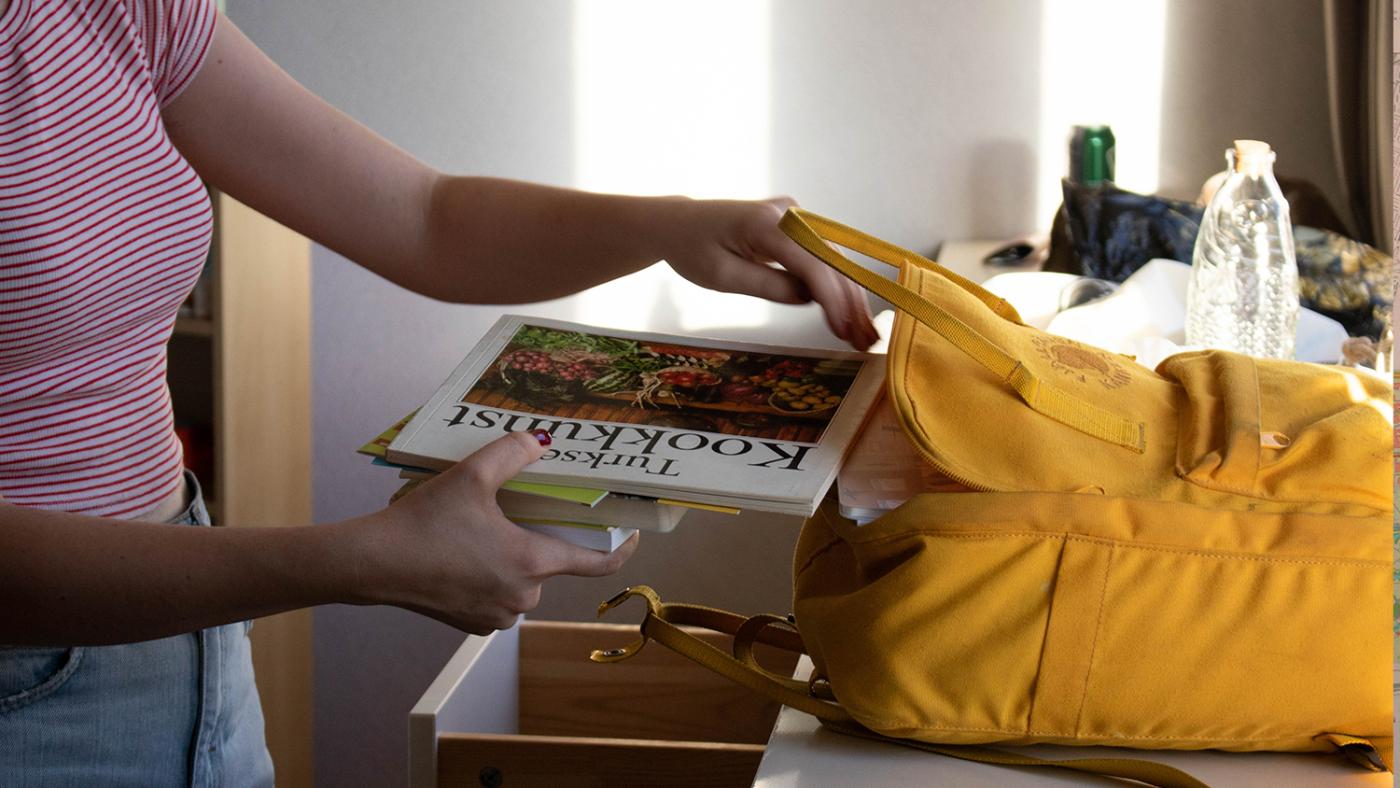 August 2023
Staying for longer
I was really scared of not finding anything in 10 days, so I called the landlady to inquire about the possibility of staying in the apartment a little longer. She said that I could stay until the end of the month if need be. Phew!
My first viewing
I'm going to visit a room in Nieuwegein. It didn't look very nice in the pictures and Nieuwegein is kind of far away from Utrecht, so I must admit that I'm a bit hesitant to go. But this is my only option. I sent the message at 11:00 pm and the landlord replied right away, asking if I could go see it tomorrow.
A new home
I was pleasantly surprised by the room. Nieuwegein is not as far away as I'd imagined, it's even bikeable. And the room looks much better than in the pictures! I even joked with the landlord that he needs to learn how to take better pictures. So, here is a tip: assume nothing! It's basically a three-storey house, one room per floor. I'd be sharing it with two other girls, one who is also a student at UU (she is even a mentor on Welcome Week!) and another one who is here for a job. The rent is 730 euros a month, which is a bit above my budget but I can't complain.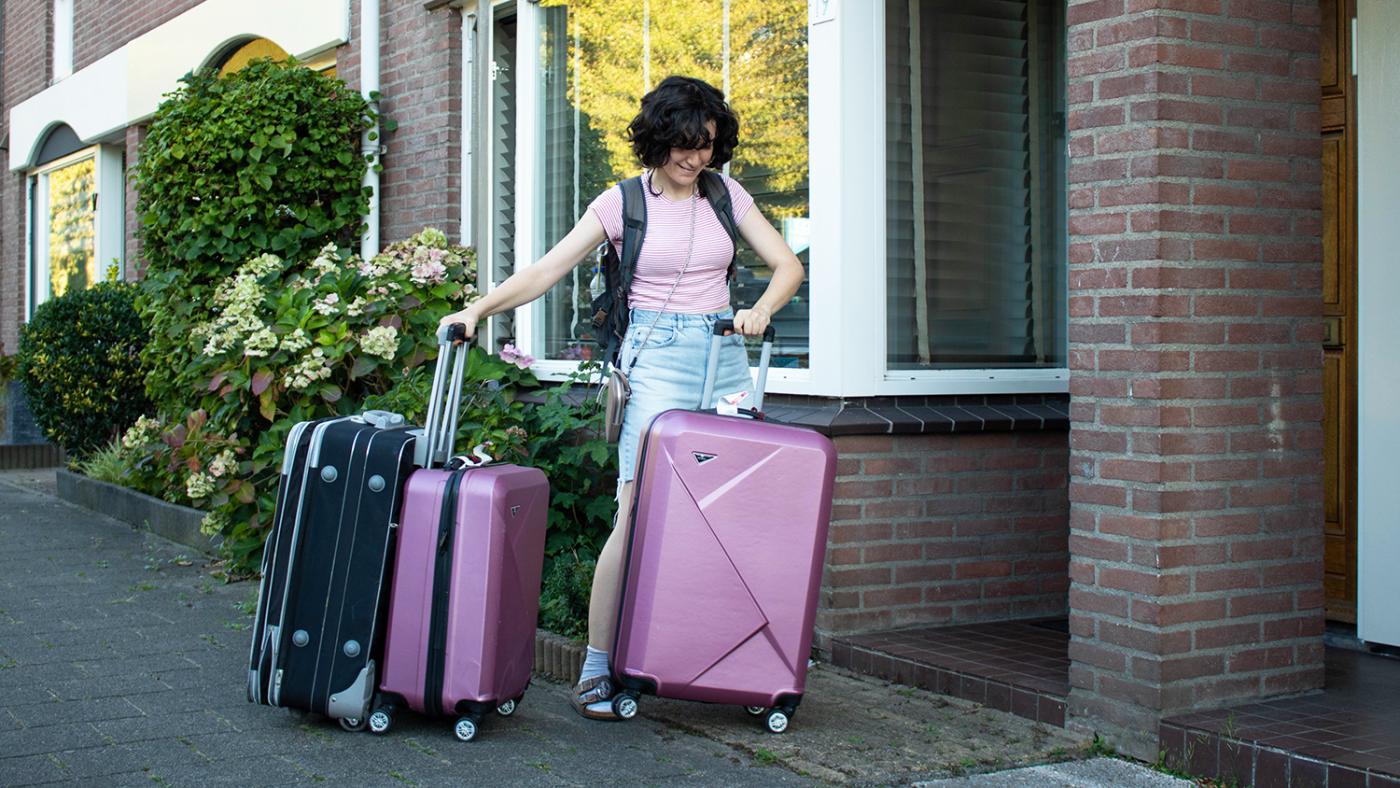 Losing my deposit
When my current landlord came back from her trip, I told her that I'd found a permanent room, so I wouldn't need to stay longer. She retorted that I had already said that I would be staying so she didn't even look for another tenant. For this reason, she is keeping my deposit.
I consulted TU Delft's legal assistance team but there is nothing they can do for me because I didn't have a contract with this person and the conversation happened over the phone. At least I've learned my lesson: I am putting every possible detail on the rental contract for my room in Nieuwegein. Fortunately, the landlord there accepted all of my requests.
An even better room
When I first visited the house in Nieuwegein, the room on the second floor was being temporarily occupied by the landlord's mother-in-law. She was about to leave and I asked if I could get that room instead of the one on the ground floor. It took a bit of insistence, but in the end, he let me have it. And the best thing is that there were a couple of pieces of furniture in this room already, such as a closet and a mattress. I feel so lucky!
Helping others
I've been thinking about writing a short booklet for my friends who will come to the Netherlands in the future. I think that talking to people who have already been through this process helps a lot. Otherwise, you get confused and caught up in your own head.
*Irem identifies as non-binary and goes by the pronouns they/them