'Don't come unless you have a room'
International students ignore UU's 'unwelcoming' e-mail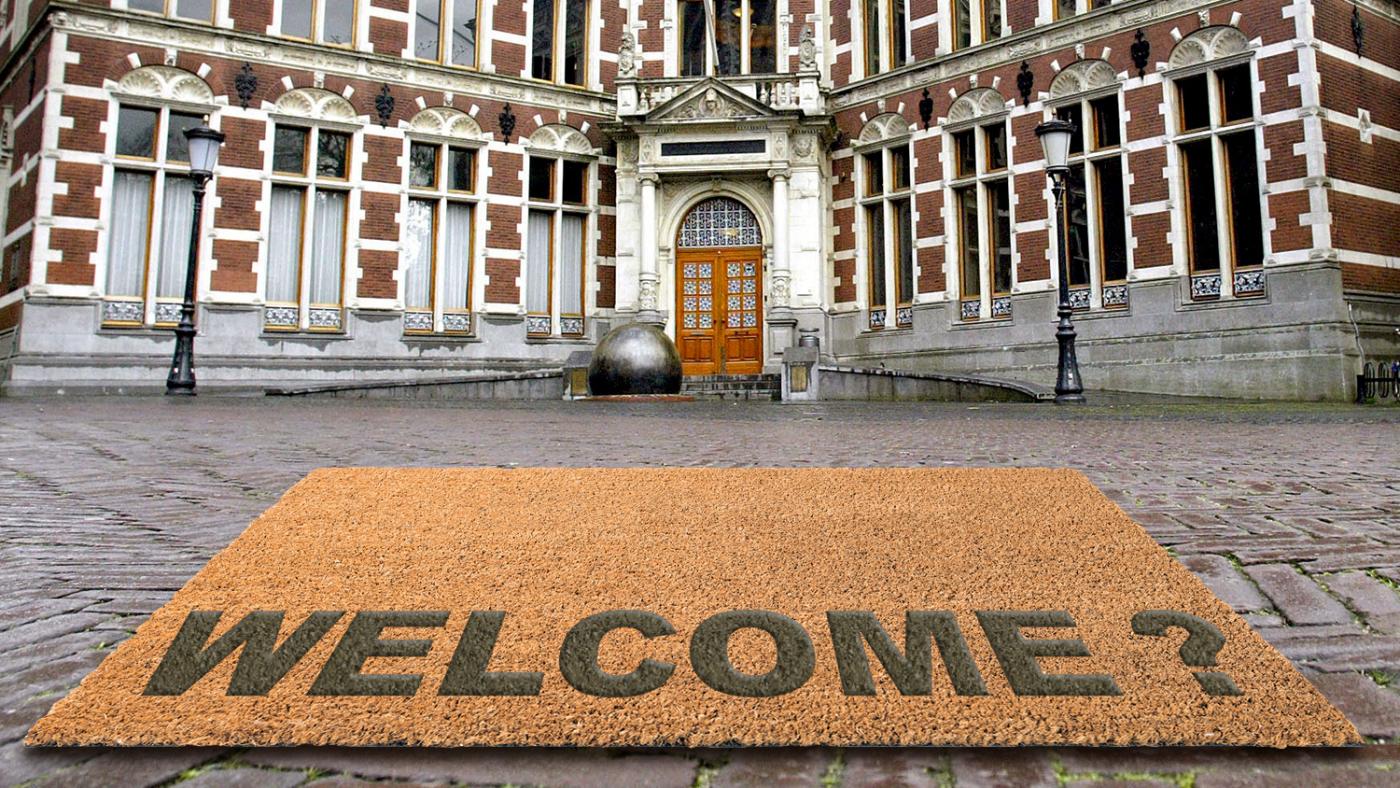 Photo: DUB
"This doesn't make any sense", says Leonardo, a first-year Master's student in Earth Sciences. "I'd gotten accepted and I'd paid my tuition already. I'd even chosen two of my courses for September. And then they send me an e-mail telling me to reconsider if I don't have a house yet?" To Leonardo, the message would only make sense if UU would offer all its classes in a hybrid way, like it did during the pandemic. "Just saying that while the lessons are clearly not remote doesn't fix the situation. What's the point?" Leonardo decided to just ignore the e-mail and come to Utrecht anyway. He spent his first week in the Netherlands in the student house where his brother lives in Delft, then sublet a room for a month, from where he intends to look for permanent accommodation.
Alice, another Italian student pursuing a Master's in Artificial Intelligence, ignored the e-mail just the same. She notes that studying abroad is not a minor decision. "To study here, you have to take English proficiency exams that cost a lot of money. Then you have to wait months for a reply on your applications. People are not going to give up so easily. It's just not fair, some people have their hopes up and really care about this." 

Shamar James, a fresher from Jamaica studying Energy Science at Master's level, confirms: "When UU sent that e-mail, I had already resigned from my job and booked the plane tickets, so I felt as though I'd already made a commitment". But Shamar, who currently has a room in Amsterdam but is still looking for a place in Utrecht, says he would have reconsidered coming if he had known just how bad the crisis really is. "I'd read about the housing situation in the Netherlands, and the e-mail was definitely a shocker, but I did not expect it to be this bad. It was only once I got here that I understood the gravity of the situation". When Shamar showed up to a viewing only to find fifty other students standing at the door, he even made a TikTok video about it.
Sad, angry, motivated
In the e-mail, UU says that it decided to send it to give new students "an honest and full picture of the increased demand for housing and the difficulties students are likely to face" when arriving in Utrecht without having secured a place to live. The university's e-mail also stressed that many foreign students have a hard time focusing on their studies while still having to look for accommodation. "This is not a process we desire our students to go through," the e-mail reads. UU finishes the letter by saying it understands that the message can be "disappointing."

But the students who received it felt much more than just disappointment. Marc, a first-year Master's student in Theoretical Physics from Barcelona, says he felt "sad and discouraged" upon reading the e-mail. "Just put yourself in my shoes: you're struggling to find a place. The days are passing and you still haven't found anything. Then you get an e-mail like that. It really doesn't help". He, too, decided to ignore it. "I really wanted to come to Utrecht. It wasn't an option for me to give up. I even considered living on a camping site. I never considered not coming here." He's since found a room in Doorn, some 45 minutes cycling from the Utrecht Science Park.

Others felt downright angry. A first-year student from the Faculty of Humanities who prefers to remain anonymous tells DUB she felt "absolutely infuriated. I worked quite hard to get into this course and I found it unacceptable that the university chose not to help the students they had admitted, but rather to put it on them to renounce their aspirations and neutralise all their efforts to be accepted." In addition, this student thinks it is "ridiculous" that UU says it decided to send the e-mail out of concern for students' mental health. "Where is your interest in my mental health and general safety when you don't provide housing nor help with it?"

But there were positive feelings, too. To some, the e-mail's effect was the total opposite of what the university intended. Instead of being dissuaded from coming to Utrecht, Kevin Boelhouer, from Canada, says the e-mail only made him "more motivated" to keep searching for a room. It became a challenge for him. "I had already paid so much for tuition that I wasn't going to quit!" says the Master's student in Regenerative Medicine and Technology. 
International students surprisingly in favour of a foreign student cap
The international freshers consulted by DUB were unanimous in saying that, instead of sending such an e-mail, the university should either provide accommodation to its students, similarly to what other universities in Europe do, or establish a limit to the number of international students admitted. "No one cared about the e-mail since everyone wants to study. I'd prefer UU building dorms for students rather than terrifying them like that," says Sara Gallopa, from Italy, a Master's student in International Management who is still looking for a place. Kevin, from Canada, adds: "If this is a known issue, and you realise the city can only facilitate certain numbers, either increase student housing resources or stop accepting so many students." The student who would prefer not to have her name published thinks it is "the university's own responsibility" to make sure its students don't end up homeless.
But Dutch law states otherwise. Officially, the role of higher education institutions is to carry out quality education and research. It is up to the government to give out permits to developers to build new houses. What universities can do is make land available for third parties to build and operate student housing (which UU already does in the Utrecht Science Park). The university can also reserve rooms for its students via accommodation providers such as SSH. Although UU would like to expand the number of rooms reserved for international students, "there just aren't enough rooms available. Besides, it wouldn't be fair to Dutch students if the university would reserve all SSH rooms for students coming from abroad," explains Maarten Post, spokesperson for the university. "Whenever a new student housing complex is completed in the city, we always try to reserve part of the rooms for international students."

According to the latest National Survey on Student Housing, the twenty biggest cities with higher education institutions in the Netherlands have about 27,000 fewer student homes than needed. Due to the increased flux of international students, the shortage is expected to rise to 45,000 by 2030. Earlier this month, the Dutch cabinet announced an action plan to provide more housing for students later that same week. They intend to build 60,000 rooms over the next eight years. 
Dutch universities are also prohibited by law from discriminating among applicants based on nationality. If you meet all the requirements to follow a certain programme, you cannot be turned down. But they have been asking the government for more mechanisms to manage the influx of students for years. A draft bill concerning this matter was recently tossed by the Minister of Education, who said the subject deserved some more thought. A couple of weeks ago, the University of Amsterdam decided to take matters into its own hands and asked the Dutch government for permission to run an "experiment" in which it would limit the number of international students in popular programmes like Psychology in 2023. It is still awaiting a response from the minister. 
How are international students looking for a room?
Four of the students quoted in this article (Leonardo, Alice, Marc and Kevin) talked to DUB about their experience looking for a place to live in Utrecht. They also gave tips on how to go about it: which platforms and strategies work best and which ones are just a waste of time?
Advertisement