Read in Dutch
The student housing complex at the Ina Boudier Bakkerlaan (IBB) was nearly deserted Friday afternoon a week ago. How different it was from King's Day, when residents celebrated the king's birthday with their housemates. Among them were psychology student Femke (19) and hbo student of CMD Joris (22). The students are smoking a cigarette in their doorway. "We were celebrating King's Day in our own home and in our hall, so the police would leave us alone. On King's Day, police officers came to check five times here. Some of the residents of other houses went outside together, and were fined," Femke says.
On King's Day, the police issued fines – at 390 euros per person – to seventeen IBB residents. One resident started a crowdfunding project to fund the fines of himself and his ten housemates. The goal: 4,290 euros. "The eleven of us housemates went outside, right in front of our own home, and everyone was fined without a warning," he writes. The author has not responded to DUB's interview requests.
Joris saw how enforcers and police officers arrived at the IBB. He points at the row of houses to the right of his home. "They spent a lot of time watching that house before talking to the residents. I think they were fined."
Fireworks and vuvuzelas
Fines were also issued at the Tuindorp West Complex (TWC) at the Van Lieflandlaan. Within the complex, the idea started to organise an online pub quiz on April 18, with proceeds going to charity.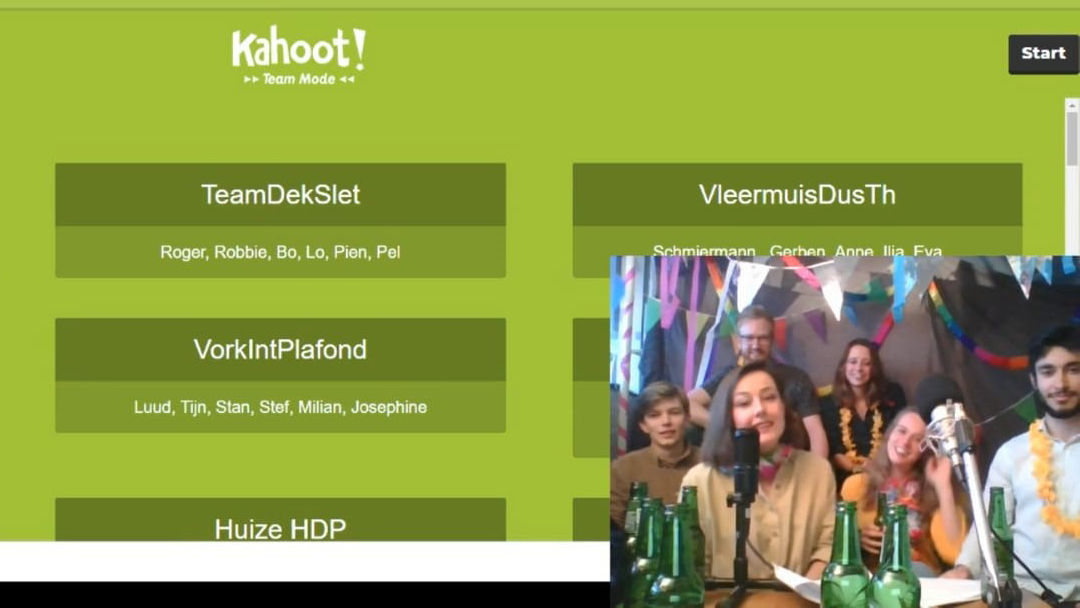 Many people were interested, but the pub quiz ended with two separate house parties. Those were such fun that two fines were issued. The house of Art History student Willem (21) had joined in on the pub quiz. "From 10pm on, I could hear people partying inside and in their galleries, and I could hear fireworks on the other side of the complex. Some were blowing on vuvuzelas." He himself didn't join the party. "I had some beers with my nine housemates, and then I went to bed. That same night, I read on Facebook that the police visited some of the houses." He doesn't think that residents of multiple houses went to party together in a single home. "Everyone is following the corona advice, and there's barely any contact between separate homes."
Biology student Lisa (24) lives in one of the smaller buildings in the TWC. "I didn't participate in the pub quiz, but I could hear the noise. It's a very noisy neighbourhood, and I could hear music, yelling, and fireworks coming from the taller buildings until 11pm. There are still house parties every weekend. This time wasn't any worse than normal, it just sounded like fun."
Shaking walls
In the student housing complex De Sterren at the Pythagoraslaan, residents of multiple houses did come together after a pub quiz that was held a weekend later. The board helped organise the quiz and is bummed about the afterparty. "The final round of the pub quiz was about music, and some people sang along from their balconies. Unfortunately, some houses went outside in groups to dance on the square, while someone played (loud) music. After about 20-30 minutes, the police showed up, and ordered everyone to go inside and adhere to the 1.5-metre distance rule."
Here, the police didn't impose any fines. A video has since shown up on Dumpert, in which people are running away, and a police officer shouts through a megaphone, telling people to keep their distance to each other.
"It was really crazy," says one De Sterren resident who wishes to remain anonymous. "There were people partying everywhere in the complex. They didn't adhere to the corona rules, and were throwing beer bottles. The dude who organised the pub quiz asked us all to party on our balconies after the quiz, and when everything got out of hand, he broke the rules as well. After the police left, people just went outside again. The walls were shaking, and my housemates and I couldn't sleep, so we just watched movies all night."
"It's really selfish, stupid, and dangerous, that students insist on partying during a pandemic. I understand them wanting to, we're all young. But not going out for a while, or just partying with your housemates, is not a bad sacrifice to make to ensure this pandemic ends sooner and fewer people die."
Close house
"I understand the police will issue fines when people party in each other's homes, but not when they're partying with their own housemates," says TWC resident Lisa.
Residents are spending a lot of their free time with their housemates. "My house has gotten much closer," says TWC resident Willem.
The SSH is aware of what happened at these three student housing complexes but is not taking any action. "We just rent the homes. We're asking students to abide by the rules, but they themselves decide whether or not to do so," says manager Roeland Kreeft. The SSH did write a warning preventive letter in the days before May 5. "In these past weeks, a large number of reports have come in at the SSH, police, and municipality, about students breaking the measures for curbing the coronavirus. As long as these measures are in effect, the police is present in these neighbourhoods more often, and will act when three or more people are in close proximity to each other. (…) To prevent actions like the ones on King's Day, we're strongly urging you not to cause any noise pollution, not to go out on balconies and galleries together, or chill on the grass."
Impossible
For the corona measures, a student house doesn't count as a household. And keeping your distance in a house with fifteen people is impossible, say IBB residents Joris and Femke. "You know what's allowed and what isn't, and it's not smart to break the rules, but keeping your distance inside the house is impossible. We share bathrooms, and our rooms are all on the same hallway that isn't even 1.5 metres wide."
Last week, youth parties launched a petition urging the government to view student homes as a shared household with regards to the corona measures. The petition has since been signed over 600 times.
Criminal offence
Police spokesperson Remy van Berkesteijn says a corona fine will result in a criminal record. "It's a criminal offence. If you need a certificate of good conduct, it won't cause any issues, but if you ever want to become a police officer, you'll have some explaining to do. Why would you want to work in law enforcement when you yourself didn't follow the emergency measures?"