Philosophy becoming more popular
What do UU philosophers think about popular philosophy in the Netherlands?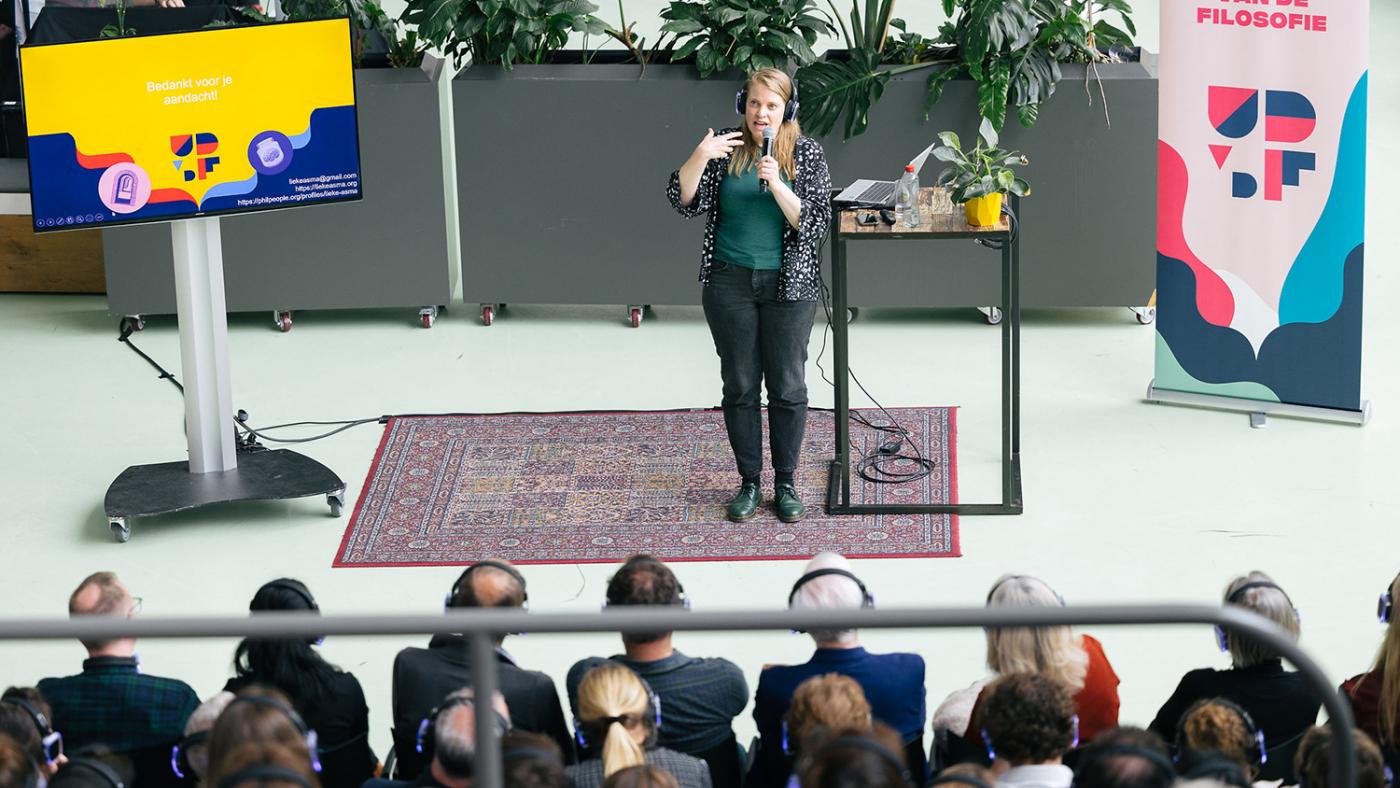 One of the lecturers of the 2023 Utrecht Philosophy Day, at TivoliVredenburg. Tickets to the free event sold out in minutes. Photo: Ward Mevis
There are academic philosophers and public philosophers, and they are completely different, states Assistant Professor Menno Lievers. "Public philosophy has become an autonomous area, a genre of non-fiction with its own laws." Naomi van Steenbergen, an Assistant Professor at the Ethics Institute who is also involved with the organisation of the Utrecht Philosophy Day at TivoliVredenburg, has a more nuanced view. "Academic philosophers can be public philosophers, too."
Public philosophers aim to get a broad audience acquainted with Philosophy by means of lectures, books, or participating in talk shows. Their backgrounds can vary widely. Some are connected to a university, while others studied Philosophy or are self-declared philosophers.
Practical life questions
Theoretical philosopher Lievers doesn't care much for popular philosophy. "I often think: 'Haven't philosophers throughout history written about this in much better ways?' Another objection is that some subjects aren't really related to philosophy, such as the question of whether or not one should be allowed to masturbate in public."
Still, he acknowledges the need for public philosophy. According to him, the increased internationalisation of higher education and the increased specialisation of the discipline have made it so that the issues academic philosophers focus on are now much harder to understand for non-academics. Because of these factors, Philosophy is barely in touch with Dutch society anymore, he says. As a result, Lievers has grown to sympathise with public philosophers as they tend to focus on more practical life questions. But he is still critical of those who do not do justice to Philosophy.
Optimist
Naomi van Steenbergen, from the Ethics department, is much more optimistic about the increased interest in public Philosophy, especially when the philosophers in question are connected to a university. "Most lectures on the Utrecht Philosophy Day were given by academic philosophers who were talking about their line of research in an accessible way, so there was a strong connection to academic philosophy. But there is also public philosophy where that's not the case, such as when people without an academic background publish books. I think the spectrum of public philosophy is very broad."
Van Steenbergen mentions Jurriën Hamer as a good example of a blend between academia and a more autonomous form of public philosophy. Hamer has a PhD in Philosophy, and aims to reach a broader audience with the book Waarom schurken pech hebben en Helden geluk (Why bad guys are unlucky and heroes are lucky, Ed.). Thanks to this book, Hamer scored the Socrates Cup, an award given annually to the author of the "most exciting and titilating" Philosophy book in the Dutch language. 
In Van Steenbergen's opinion, there are plenty of subjects that would be interesting for both academic philosophers and the general public. She mentions the "Philosophy of free will, human emotions, or freedom."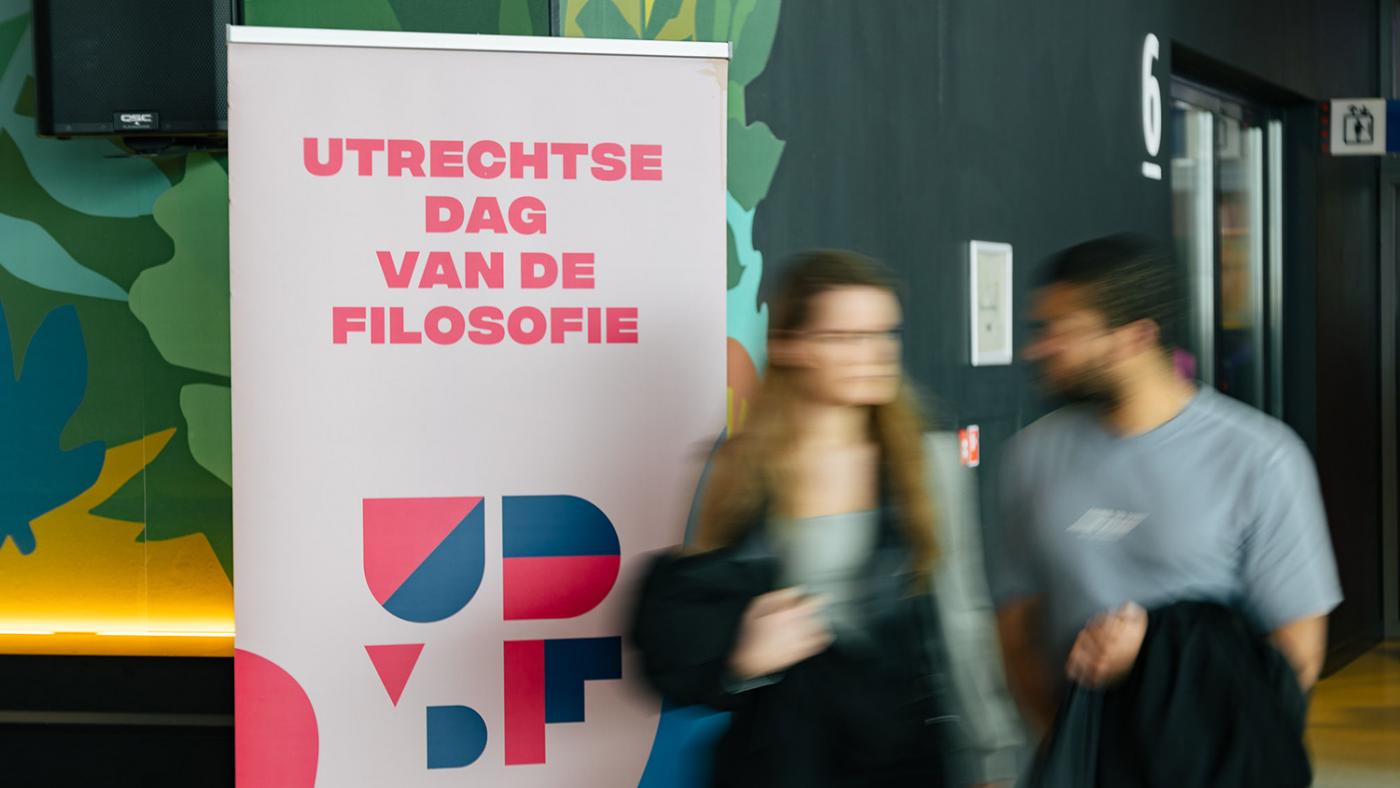 Sugarcoated broccoli
According to Lievers, one of the risks of public philosophy is vulgarising things. "By vulgar, I mean misrepresenting certain ideas because you want to sell them. That risk exists when complex philosophy is explained in such a way that readers without an academic background in Philosophy can understand it."
Lievers mentions the British philosopher and author Alain de Botton, who founded the School of Life after graduating in History and Philosophy. The School of Life's YouTube Channel has gathered almost 9 million followers thanks to videos in which the ideas of various philosophers are presented in five minutes, in the most attractive way possible. Lievers: "De Botton says that he is putting sugar on the broccoli to make sure that people will eat it. To me, that's a horrible combination. That's what I mean by vulgarising. Our challenge is to present philosophies in such a way that they are correct and understandable at the same time. Frits van Oostrom is someone who can do that very well."
When he thinks about the risk of vulgarising, books are the first thing that comes to mind. "As an author, you have to deal with the demands of publishers who always have a commercial interest. They might demand the author to write clearer or even more provocative statements. The philosophers' challenge is to write a book that is accessible, clear and philosophically strong. By that last bit, I mean sticking to nuance, using strong argumentation and leaving room for questions." To Van Steenbergen, the risk of vulgarising also depends on the platform. For example, the Dutch weekly De Groene Amsterdammer, which publishes lengthy opinion pieces, offers more room for nuance than an 800-word op-ed in a newspaper.
Philosophy in society
Asked whether philosophers can offer a meaningful contribution to the public debate, Van Steenbergen says that they can. For instance, they can write op-eds or join organisations struggling with ethical questions. "It's important for academic philosophers to acknowledge that it is an art form to talk philosophy with a broader audience. Being a good researcher or lecturer does not mean that you automatically have that skill. You really have to acquire your proficiency in it."
Lievers, too, thinks that philosophers can play an important role in society: "I believe that philosophers can offer a very good contribution to societal debate but they need to be given the space to do so on TV and in newspapers." However, he isn't pleased with the way philosophers took part in the debate about the Covid-19 pandemic. To him, that contribution was "subpar" because they were acting in an empirical territory" even though that is clearly not their domain. To Lievers, philosophers should focus on conceptual questions instead. He also observes that when popular philosophers express philosophical opinions, that's often without sound argumentation. Marli Huijer, Professor of Public Philosophy at Erasmus University, in Rotterdam, spoke up against the lockdowns, for example. She argued that everyone has a right to protection against a premature death but not to a life that's as long as possible. Lievers finds that Huijer's controversial statement missed the necessary substantiation. "I'm allergic to philosophy as a speculative science and I saw a lot of it during Covid."
Public philosophy at the university
The chair of public philosophy at Erasmus University, now occupied by Stine Jensen, is illustrative of the fact that public philosophy is now being taken seriously by universities as well. With this chair, the university aims to promote an interactive collaboration between academic philosophy and society. At the University of Amsterdam, there is a similar position for Daan Rovers, a former holder of Denker des Vaderlands (National Thinker, Ed.), a title conferred by the Month of Philosophy Foundation in collaboration with Filosofie Magazine and the newspaper Trouw. Rovers worked for the magazine after her studies. "Universities want to draw in well-known people because that means they will also attract more students," states Lievers. "Remarkably, the people who become well known through public philosophy are being hired by academia despite having no qualifications in academia."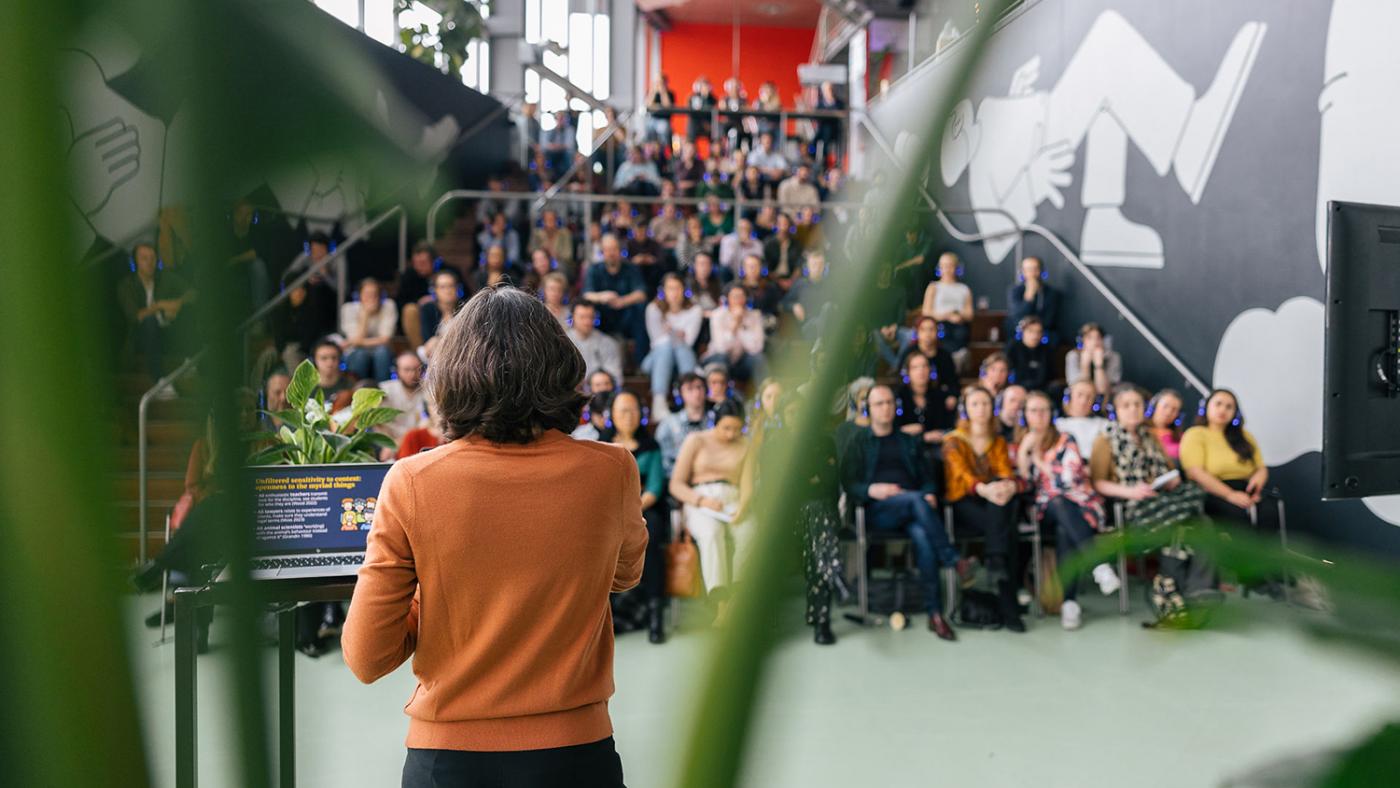 Denker des Vaderlands
It's not a surprise that Lievers is not a fan of the National Thinker. Since 2011, the holder of that title is asked to provide a philosophical perspective on recent events. "They are expected to say something meaningful because they're a celebrity, even though what they say remains superficial in terms of actual content."
Van Steenbergen sees the title as a hybrid of academic philosophy and more autonomous public philosophy because the position is occupied by both people with and without academic professions. Van Steenbergen: "Of course, it is a marketing tool for philosophy, but it isn't wrong in itself. There would be an issue if this thinker was put on a pedestal and only voiced their own personal opinion. If they did that, all the philosophy would go away. But, as far as I know, that hasn't happened so far. So, I think the title can be a good way to shine a light on Philosophy."
The future of Philosophy
That seems like a good step, especially for those who fear for the future of the Humanities at university — a concern expressed by Lievers in the Dutch newspaper NRC five years ago, which still worries him to this day. The assistant professor argues that anything without a clear purpose is deemed worthless in our society, even though we should recognise that studying Humanities is something valuable in itself. "I still believe in the intrinsic value of literature and Philosophy but, these days, it's all about instrumental value." As an example, he refers to the recent debate about the French and German Language & Culture programmes, which have to be clustered because they don't attract enough students. In Lievers' view, those languages should be taught at every university — after all, reading texts in their original language is useful as nuances can be lost in translation.
Lievers acknowledges that popular philosophy brings attention to the discipline. "It's thanks to the efforts of public philosophers that philosophy became an elective in secondary school," he says. Still, he doesn't think that public philosophy can contribute to the re-evaluation of academic philosophy, at least not in its traditional form. In his opinion, there is mostly room for practical Philosophy in the department: "You can say: 'We're getting this great impulse by hiring seven new philosophers in our department.' But they're all positions in applied philosophy. In my view, those aren't philosophers. You're writing concept memos for the Ministry of Health."
Advertisement