Dutch students rarely choose international students as their housemates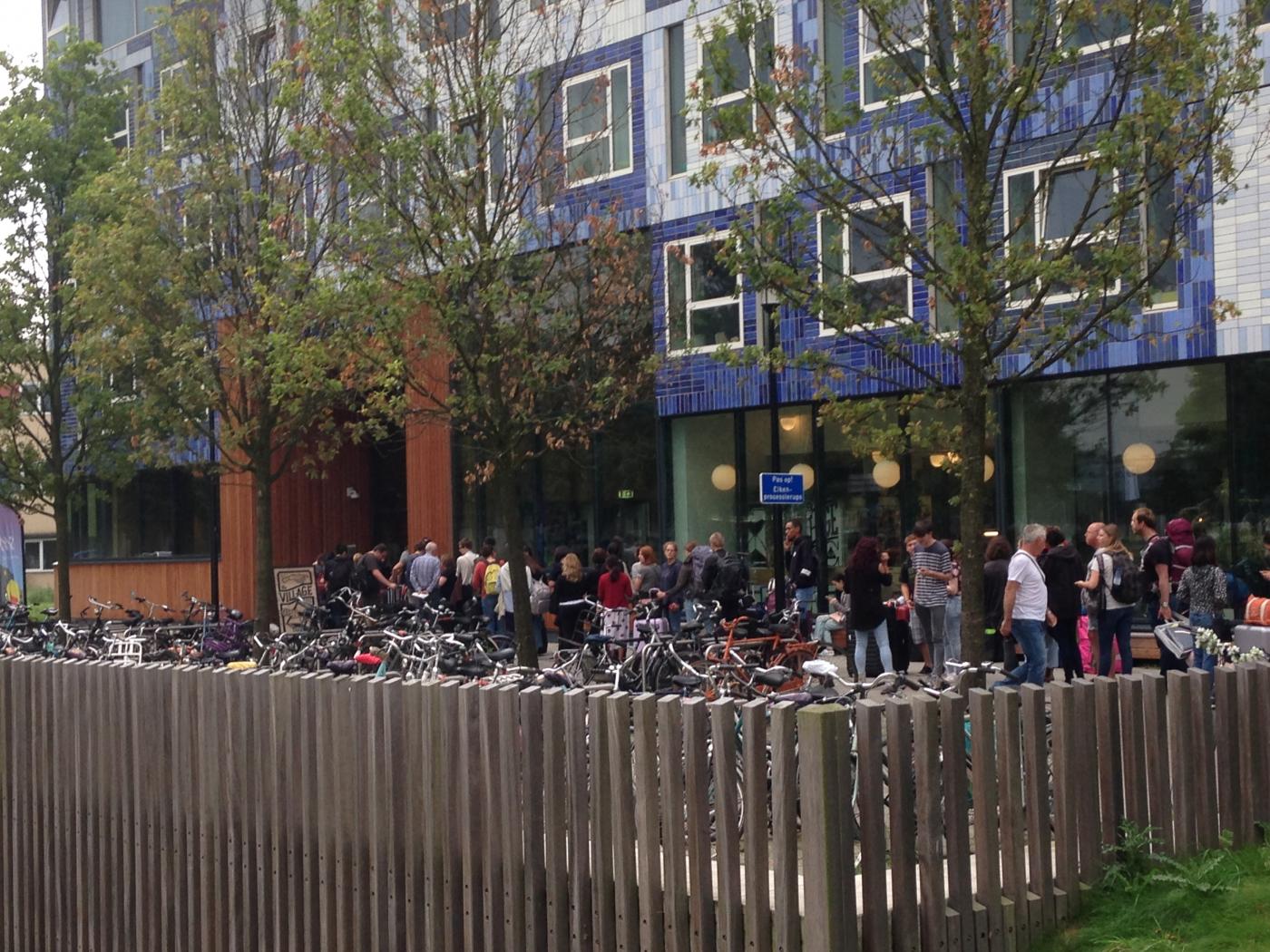 Buitenlandse studenten melden zich 30 augustus bij SSH voor de sleutel van hun kamer, foto DUB
This is the result of a study called Een international in huis? (An international housemate?) by ISHA, the International Student Housing Assistance, that was presented this week. ISHA is a cooperation between Boks (umbrella organization for SSH tenants), Vidius (students' advocacy organization), and ESN and Buddy go Dutch, two associations that aim to get Dutch and international students in touch with each other.
ISHA states that every year, around 3,000 internationals come to Utrecht for an exchange, bachelor's or master's degree, or a PhD. (Social) media tells us that generally, international students aren't wanted in homes that also house Dutch people, and international students often don't make it past the interview phase. ISHA decided to research the wishes of both international and Dutch students about living together in so-called mixed housing, a way of living highly stimulated by the government because it stimulates integration of foreign students.
What does the international student want?
ISHA asked 244 international students about their preferences for living situations. Results show that 74 per cent of internationals wants to live in a house with Dutch students. Of these, 64 per cent would prefer to live in a house that's divided half-half between internationals and Dutch students. It's mostly master's students who'd prefer a situation like that. Students would also prefer to live with fellow students who are in a similar phase in their studies, or who are the same age.
What does the Dutch student want?
ISHA also sent out a questionnaire to Dutch students. Only 54 (ex) student tenants filled it out. Results will only give a general indication, says Vidius treasurer Siebren Teule.
Responses aren't as clear as the international students' survey. This is partly because Dutch respondents were allowed to choose more than one answer to some questions. It's clear, however, that the average Dutch student in Utrecht isn't unhappy about the presence of internationals in the city, but does object to sharing a house with an international. Language and cultural differences are seen as issues.
An exchange student who's only in the Netherlands for three months, is the least-wanted housemate. One of the respondents writes: "I think they feel like life is one big party." This mostly causes problems for the respondent during exam periods. An international bachelor's or master's student is more welcome. But, as respondents say, they'd prefer to choose him or her themselves during an interview. The disadvantage international students face is that when housemates have to choose between a Dutch housemate and an international one, 57 per cent of respondents say they'd rather choose the Dutch one.
What does ISHA want to achieve with these results?
Based on the study's results, ISHA recommends further research into the so-called mixed housing. Siebren Teule: "More and more international students come to Utrecht, as the number of English language programs grows. We'd like to see an increase in mixed housing, because you can learn so much from each other." But he doesn't want to force it. ISHA would like to see further research into the optimal Dutch/international ratio within a student house.
ISHA's advice to student housing corporation SSH is to make it clear to every new tenant of a flat or house that it's possible that it will also house foreign students. "That prevents discussions such as the one in the Cambridge flat a while back, in which tenants were dumbfounded to learn internationals would come to live there." Teule is referring to the fuss that took place before the summer, when inhabitants of the Cambridge flat in the Uithof were told that several empty rooms would be made available to international students, because the SSH wants to concentrate the foreign student population in the Uithof.
ISHA also points out that the average Dutch student wants to include the international students in the regular process of interview rounds: in that way, at least housemates are able to influence who gets to live in their house.