'I'm moving because of the nuisance'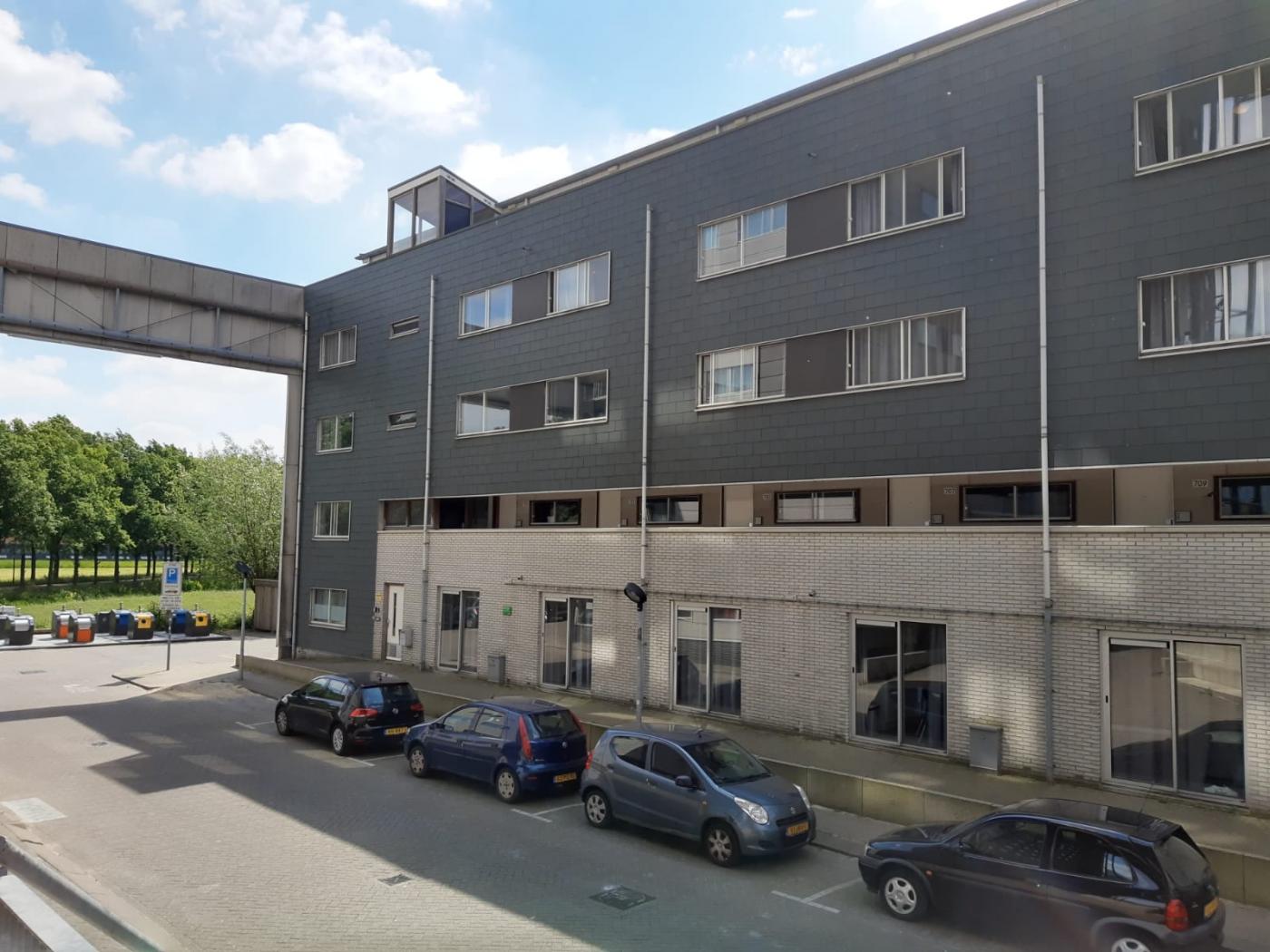 Among other accommodations, the front low-rise building of the Cambridgelaan is designated for short stay residents. Photo: DUB
For over three years, a number of blocks with units have been reserved for international students on Cambridgelaan. Usually, these are students who come to Utrecht for one semester. The Dutch students who already had a room in those blocks were allowed to stay. When they leave, the room is converted into a short stay studio.
In recent years, the number of Dutch students in these housing blocks has been steadily decreasing. The Dutch students are becoming a minority more and more. That in itself is not so bad. But sometimes the cultures in these blocks clash.
Poop on the floor
Priscilla is one of those Dutch students. "Over the past year, I've had six different residents. That's annoying in the first place. And in some cases, it's going downright bad. There was one student who consistently left traces of poop and menstrual blood on the walls and floor of the toilet. You couldn't call her to account for that."
But what bothers Priscilla most is the party culture that prevails there. "Italian and Spanish students in particular have a very different rhythm. They make noise all night long and I get smells of weed in my house about three to four days a week. I'm studying medicine and if you have internships you don't want to be lying awake in bed at 4 o'clock. Even with earplugs, the music pops out. And if you say speak up, they'll loudly shout 'Puta, puta'."
Unrelated to the pandemic
For Priscilla, enough is enough. She's going to move for this reason. "I've been able to rent a studio close to here. It's quieter there." She understands that there is now little entertainment for the international students who stay for a short period of time. They can't go home and there's not much to do here. "But this nuisance is unrelated to the pandemic. The problems with the current group were already there before the corona crisis. Students who live on Cambridgelaan often follow somewhat longer study programmes. They have come to live here because they value peace and quiet to study as well as living in nature. That peace and quiet disappears. Students are always a bit looser, but they also have to give you the opportunity to study. In any case, I've had enough of this group of troublemakers who break things down, piss on everything, and constantly cause noise nuisance."
SSH went wrong
She's not the only one moving. Her next-door neighbour Melissa fled to her parents. "My problem is not primarily the nuisance of the international students, but the way the SSH deals with the complaints. I had sent a text in which I told them what was going wrong here. The students in my house did not comply with the corona measures and thought social distancing was exaggerated. I hoped SSH would send a general email with the corona rules the students have to abide by. But no, they spoke directly to the people without my knowledge. We are with the three of us in the unit and I didn't feel safe. I was afraid of getting infected with corona. That's why I left and want to move. According to the SSH, temporary transfer was not an option because I already graduated."
She recognises the story of Priscilla, but says that only some of the exchange students cause nuisance. "I live in the back and I don't have that much trouble this period. At Priscilla's side it's much worse this time. I would suggest that students who come to live here receive a clear letter upon arrival with rules they have to abide by and that the SSH monitors them a little more."
Separate building
Priscilla would prefer these rooms on the outskirts of town to be reserved for students who want to study seriously in a quiet environment. Especially exchange students who are here for a short period of time do not fall into that category. "Some of them just come to party. They should get units closer to the city centre, like at the IBB. Or put them in a separate building where they don't bother others. I hope the SSH and the university reconsider the current plan to reserve these three blocks for international students only, because this doesn't work." She is now chair of the housing board and intends to raise the nuisance there as well.
Treated unfairly
Earlier, DUB wrote about the nuisance students at the Sterren experience from international students. One international student commented: "It's not fair that only international students are referred to. I've seen a lot of Dutch student parties where furniture didn't survive and the noise nuisance was enormous. For international students it is difficult to mix with Dutch students. Especially when they are regarded as if they are barely welcome and treated unfairly. What about the openness of the Dutch?"
Complaints taken seriously
Roeland Kreeft of the SSH does not know the case, but knows that there are more complaints of nuisance because of the corona measures. And those certainly not only concern the internationals. "People now have to stay in their units all the time and then the chance of nuisance is greater. Our policy is to take complaints seriously and to speak to people about them. But there's not much more we can do at the moment. We have agreed that we will not evict people from their homes during this corona period. In some cases, foreign students cannot return to their own country and are more or less forced to stay here."