New student apartments in De Uithof to alleviate housing problems for internationals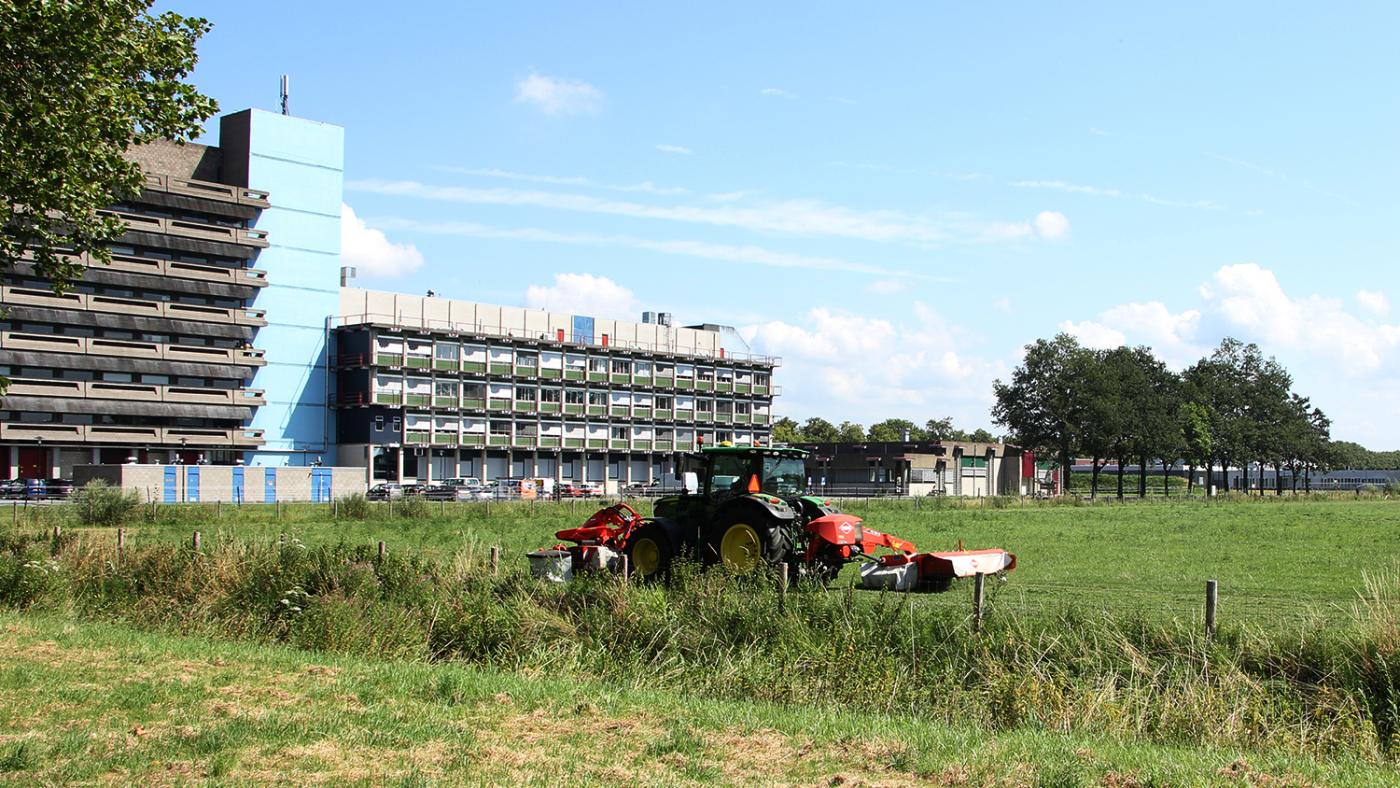 There will be student apartments on this pasture in March 2020. Photo DUB
During the summer holidays, it was announced that a new student flat with four hundred studios will be built in the Utrecht Science Park. These have a private bathroom, a kitchen unit, are furnished and equipped with necessary furniture. The flat will remain standing for 15 years.
Student housing association SSH also announced that it wants to build another student complex on the Science Park. The location is still being negotiated with the municipality of Utrecht and the university, according to the UU spokesperson. The new Veterinary Medicine complex is in fact located at the last location with a residential destination. To build an additional residential complex, the zoning plan must therefore be adjusted first. The university did report, however, that if the Androclus building and Nieuw Gildestein will be demolished (in Dutch, ed.), student housing could possibly be built there.
The temporary flat is being built by Jan Snel and will be managed and rented out by Camelot (in Dutch, ed.). The foundation will be laid in October and the first students are expected to be able to move in in March. The facility is one of the measures that Utrecht University is taking to alleviate the housing problem among international students. But the amount of independent units that will go to internationals and to Dutch students is still unclear. Agreements have yet to be made with the university. However, it is already clear that for one hundred homes housing benefits can be requested if the resident is between 18 and 23 years old. The rent plus the part of the service costs that is eligible for subsidy will therefore be around 425 euros. The amount that will be subsidized depends on the income of the student. In September, the constructor and Utrecht University are organizing an information meeting about the new construction project.
Nine hundred rooms, more than a hundred beds for a month
Utrecht University expects about 2500 new students from abroad this academic year. They are going to do a full bachelor's or master's degree or visit through an exchange programme. Every academic year the problem of sufficient housing for this growing group of students returns.
The number of rooms and studios that the university sets aside for them is growing over the years. In 2015 there were around 560, last year 790 and this year UU has reserved 900 accommodations with various providers such as SSH Shortstay, Camelot, Holland2Stay, and Xior Student Housing. All these furnished rooms are offered for a maximum of one year. Those who stay longer in Utrecht for their studies must provide their own accommodation after that period.
For the first month of the academic year, UU will provide 125 sleeping places for internationals who have not yet found their own room as well. They can book a bed in a hostel, hotel or holiday park through UU. These are the same locations as last year. Students can rent a bed in a dormitory in the Stayokay on the Neude, rent a room and possibly share one in Star Lodge Hotel at the Berenkuil and holiday park Het Grote Bos in Doorn. Students who stay at this park can travel with a shuttle bus to and from Doorn for free.
Although it was said that the university would ask a contribution from international students who move into a room through UU last year, this has been postponed by one year. The contribution must alleviate part of the costs incurred by UU to reserve rooms and studios. How much the university spends on this is not entirely clear. At the moment this is still being calculated, says Michel de Bekker, Director of Finance, Control & Administration at UU.
Landlady
An initiative supported by the university is to revitalize renting with a landlady. Startup HospiHousing of two UU alumni and one alumnus of the Utrecht University of Applied Sciences bring supply and demand together. Their website went online in July. Mainly international students respond. "But we already have ten landladies in September."
Read the story 'Students from Utrecht breathe new life into 'hospita': "We match supply and demand"' here.