UU wants to join forces with other universities to discuss ABP investments
University Rebellion protested in front of the Administration Building calling for ABP to become more sustainable. Photo: DUB, foto s DUB
In the past few weeks, students and staff of Utrecht University and the Utrecht University of Applied Sciences have consistently manifested their opposition to the investment portfolio of their pension fund, ABP. Investments in oil, coal and gas amount to 17 billion euros of their total investment portfolio of 493 billion euros.
According to the protesters, these investments are not in line with the sustainabilitly goals adopted by the universities, neither do they contribute to achieving the goals established by the IPCC to combat climate change. Because higher education workers are obliged to build up a pension through ABP, they cannot express their dissatisfaction by leaving it, which is why they would like to see the boards of their institutions exerting 
pressure on the pension fund to ensure that it becomes a sustainable investor. Many students support this wish.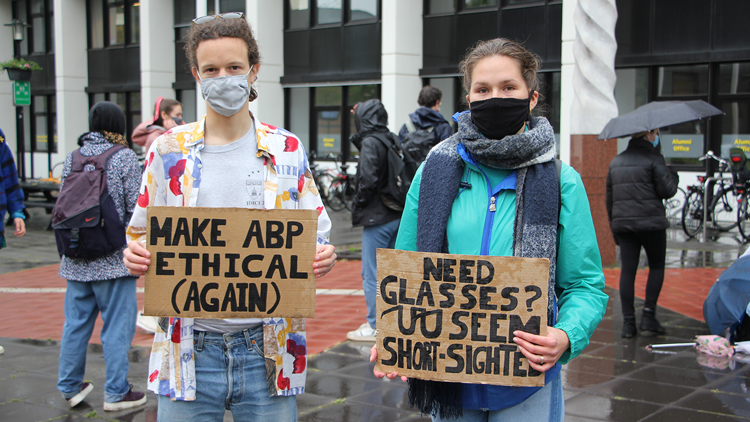 On the 19th of May, around a dozen students from protest group University Rebellion demonstrated in front of UU's Administration Building at the Utrecht Science Park. The rain didn't stop them from unfolding their banners, writing slogans on cardboard, and reading the letter with which they intend to convince the Executive Board to exert pressure on ABP. They had planned to write their slogans on the pavement with chalk, but the heavy rainfall around noon forced them to wait until the pavement was dry again, which took several hours.
University Rebellion is just one of several protest groups looking to persuade ABP to immediately stop investing in fossil fuels. Last Tuesday, they joined civil servants -- who are also obliged to build up a pension through ABP -- to protest in front of the city hall, asking the city to enter into a dialogue with the pension fund. They also supported the protests held on the 10th of May, when Fossiel Vrij Hoger Onderwijs Utrecht (Fossil Free Higher Education Utrecht, ed.) launched a petition and UU members of Scientist4Future published an online survey to gauge what the university community thinks of ABP's investment portfolio.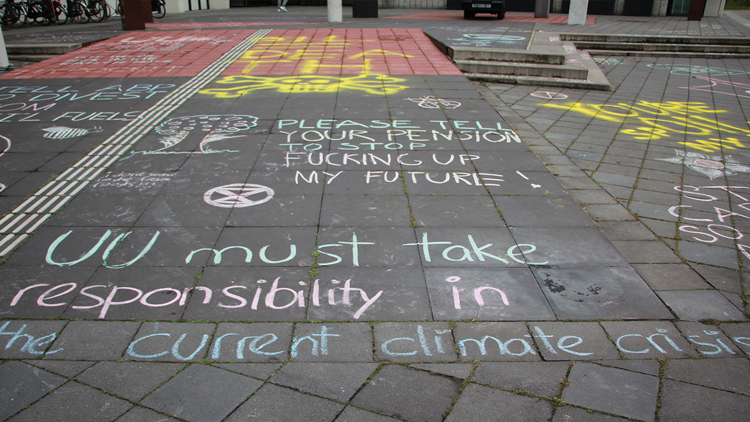 Prior to the protests, the pension fund told Hoger Onderwijs Persbureau (Higher Education Press Agency, ed) that it aims to have a climate-neutral investment portfolio by 2050, as it is not able to halt its investments in oil, coal and gas in the short term.
In a written response, UU's Executive Board states that it is aware of the concerns of its students and employees, but it believes that it would be able to exert more influence if it joined forces with all other Dutch universities. Meanwhile, VSNU, the umbrella organisation of Dutch universities, is set to enter into discussions with ABP about its investments.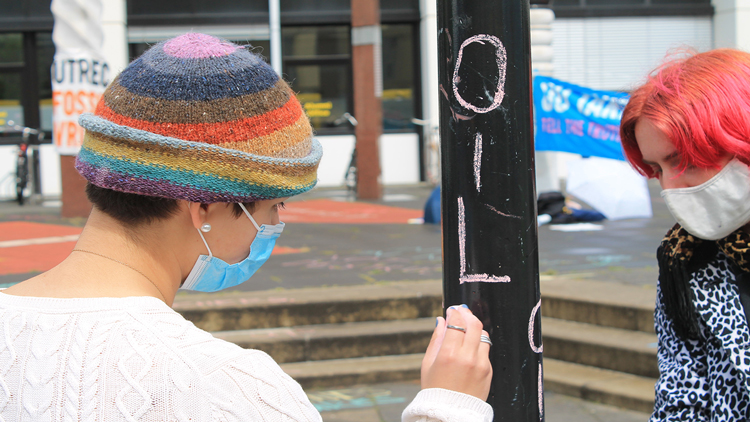 Foto University Rebellion
One of the topics that will be discussed is how ABP believes that its links with companies that trade in fossil fuels will actually help to make them more sustainable.
The Executive Board also refers to a letter that UU sent to ABP in 2016, when the university community was also inquiring the pension fund about its non-sustainable investments. In that letter, UU asks ABP to only invest in "energy forms that are future-proof".
The written response of the Executive Board:
Developing a sustainable society is one of the greatest challenges of the 21st century. Utrecht University is contributing to the solution by adapting its own business operations so that it will be carbon neutral by 2030, as well as by developing and sharing scientific knowledge. Sustainable development is one of the pillars of UU's Strategic Plan. 
We are also in touch with other organisations, encouraging them to contribute to the necessary transition. The Executive Board wrote a letter to the ABP back in 2016, in which it stated the following:
"There is broad scientific consensus that the large-scale use of fossil fuels is harmful to the environment. It is an ethical dilemma to what extent we can burden future generations with the legacy of our actions. It is evident that a transition is essential for the long-term well-being of our society.
ABP has the opportunity to act as an accelerator for the transition to a sustainable society. UU calls on ABP to seize this opportunity. Specifically, UU asks ABP to: 
*Invest in energy forms that are future-proof;
*Engage with companies in the ABP portfolio which are not yet aware of the climate problem and the urgency to make the transition;
*Formulate a clear long-term vision that extends beyond 2020, linked to the objectives of the Paris climate agreement.
Each year, the Dutch Association of Investors for Sustainable Development (VBDO in the Dutch acronym) assesses the performance of the responsible investment policies of Dutch pension funds. In 2020, ABP was the highest scoring pension fund, scoring 4.3 out of a maximum of 5. Nevertheless, the question remains: can and should ABP do more?"
ABP manages the pensions of UU employees, who have strong concerns about the climate. Students share these concerns, too. We know that this issue is not only of concern to our university community, but to all universities, which is why coordination was sought through VSNU.
It would be more effective if we approached ABP as a sector. ABP claims that it is precisely their engagement with the oil industry that helps to bring about an transition, so it's important that the actions, progress and effectiveness of this engagement are shared with the public and convincing. A delegation from VSNU will meet with ABP in the near future.