Universities are responsible too
People are too quick to point fingers at international students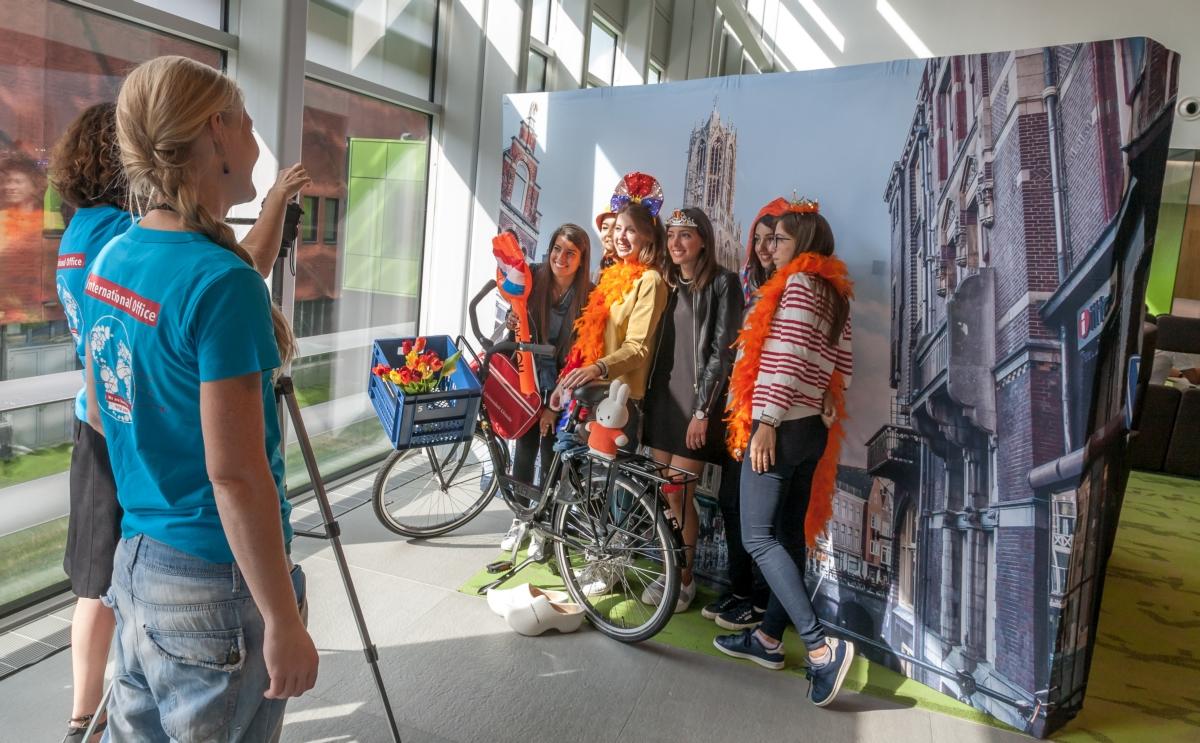 How warm is the welcome given to international students? Photo: DUB
Warm Welcome. That's what Utrecht University calls the programme to make international students and staff feel at home at the university. The project arranges a nice introduction for foreign newcomers by helping them find a place to live, open a bank account, and buy a bike. Another important aspect of giving international students and staff a "warm welcome" is making sure that most information is bilingual.
DUB is part of that project. Throughout the past few years, not only have we translated many articles from Dutch to English but we've also been publishing more articles in which the voice of international students and employees is heard. For instance, international students have recently told us that they think it was "inappropriate" and "absurd" on the part of UU to send them an e-mail advising them not to come to Utrecht if they had not found a room yet. "I'd gotten accepted and I'd paid my tuition already. I'd even chosen two of my courses for September. And then they send me an e-mail telling me to reconsider if I don't have a house yet?" says a student.
Not that warm of a welcome
It looks like not all international students and staff experience coming to UU as a warm welcome, based on the article we published on January 30. Victoria, a graduate of the Bachelor's in English Language & Culture, criticises the graduation ceremony, which, according to her, was conducted mostly in Dutch. In addition, teachers often used Dutch examples in her classes, making her feel excluded.
Her plea was supported by other students and employees who reacted to the article. "As a UU employee, I've had similar experiences," writes Andrea. "Manuals for a course I need to teach only available in Dutch, emails sent only in Dutch, team social activities conducted only in Dutch. (...) At times it is exhausting and demoralising. If programs are offered in English, English should be the default language."
Obligation to learn Dutch
Other comments were critical, saying that one cannot expect everything to be in English at a Dutch university and that international students should make an effort to learn the local language. These DUB readers expect other foreigners to learn Dutch as well.
It is clear that the presence of international students leads to tensions. A few years ago, it was considered self-evident that international students didn't have to learn Dutch and that there should be more English-taught degrees. But now the tide has turned. Last week, the Dutch Parliament passed a motion proposing that Dutch should be the language of instruction for Bachelor's degrees in the Netherlands — English should only be a well-justified exception.
Victims
The language debate seems to be linked to another discussion. International students are blamed for the housing shortage, they're deemed as the reason why there are so many students enrolled in higher education, and they cost our society a lot of money. These arguments were also used by members of Parliament.

That is not right, however. International students are also victims. Universities shouldn't recruit more international students if they cannot guarantee their housing and the quality of education.
UU President Anton Pijpers stated in last week's meeting with the University Council that he doesn't like the way this discussion is being carried out. The Executive Board is happy to have international students and staff at UU for the internationalisation of academic education goes with a globalised world. English-taught programmes help Dutch students prepare for the labour market later on.
Guaranteeing accommodation
However, the number of university students (foreigners included) has been growing considerably in the last few years, putting the higher education sector under pressure. It is remarkable that international students are often blamed for the situation when people discuss the issue. But, the moment Utrecht University decides to offer degrees in English or an English-speaking workplace, it is its responsibility to guarantee that foreigners find accommodation and can function without mastering the Dutch language.
UU is equally responsible for stimulating and supporting students and employees to learn Dutch. After all, they should be able to find their way in a Dutch university and in Dutch society. That, too, is giving them a warm welcome. 
The university should evaluate how many international students and staff it can really get and then take responsibility for them. If it cannot take direct responsibility for housing (meaning that it cannot create rooms out of thin air), then it should admit fewer international students. That's not always possible, given that students from EU countries can't be turned down on the basis of their nationality. Hence the need for legal mechanisms to enable that. Now that's what the Parliament debate should be about.