Student Wellbeing Taskforce launches action plan
How UU will help you (help yourself and your friends)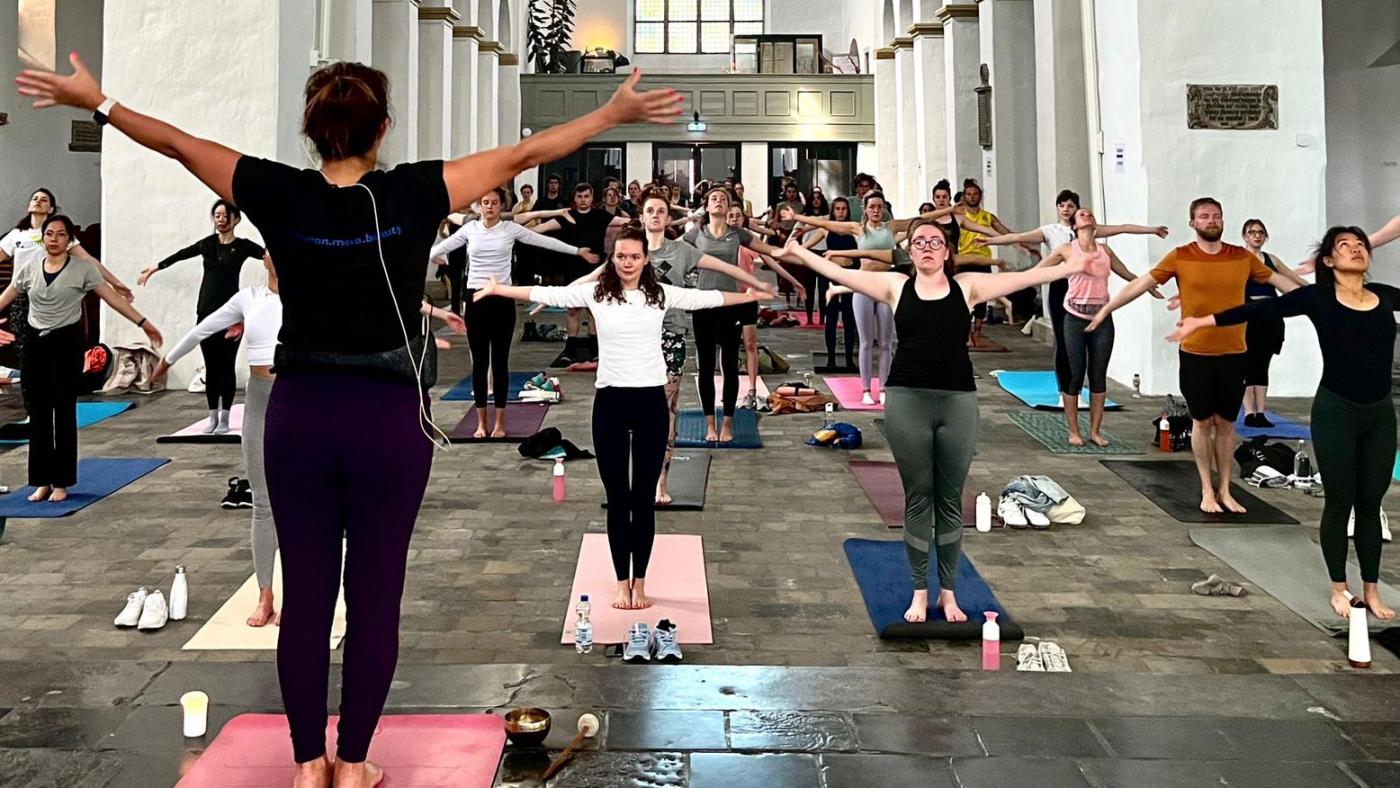 A yoga class at Janskerkhof, one of the activities of the Wellbeing Week. Photo: UU
In the next few years, Utrecht University would like to encourage students to take better care of their mental health and learn to pay more attention to other students' wellbeing. At the same time, the university is going to see what it can do to alleviate the mounting pressure to perform experienced by students in several programmes. 
This is not a luxury: a study (available in Dutch only, Ed.) conducted last year by Trimbus Institute, the National Institute for Public Health and the Environment (RIVM), and the Regional Health Services (GGD) showed that nearly half of all UU students struggle with psychological issues, nearly 70 percent feel emotionally exhausted, and around 60 percent complain of stress and pressure to perform.
In a new action plan, published this week, the UU's Student Wellbeing Taskforce expresses the university's intention to  foster a culture in which people can talk about mental health openly. Since its inception four years ago, the taskforce has been focusing on awareness and prevention, but now it would like to expand its focus. This autumn, UU's Executive Board earmarked 2.1 million euros for this goal.
The plans to improve students' wellbeing include: improving the sense of community, introducing student mentors, and encouraging support groups for students. "It should be normal to talk about the obstacles you face. That way, you're normalising those obstacles, too," say Project leader & Communication Officer Tirza Wildeboer and Policy Officer on Student Wellbeing Simon Bloo. DUB invited them to name four highlights of the new action plan.
---
1 Students helping students out
Every first-year student at UU should have a more experienced student as a mentor. The faculties of Science, Medicine, and Veterinary Medicine have already started doing this. Eventually, the taskforce expects around 7 percent of the students from the second-year onwards to serve as mentors for first-year students.
Bloo: "These past few years have shown us that accessible support and coaching can be of great help to make sure that students feel at home at the university. That support needs to be easy to find and it's a lot easier to turn to a fellow student for help."
Support groups focusing on a specific issue or topic also seem to be effective "peer2peer" initiatives. For example, there are groups for gifted students, grieving students, and students feeling lonely. There, students can exchange experiences, guided by an expert or by students in training to become psychologists. Wildeboer: "I have several requests in my inbox from students wanting to start groups like this on other topics."
---
2 More meeting spots and sense of community
The Covid-19 pandemic evidenced how important it is for students to have places where they can meet each other, according to Bloo. "It's not just about studying together. It's about relaxing together too."
The action plan states that the university, together with study programmes and study associations, needs to create more meeting places. Some steps have been taken in the past few months already. UU students are welcome to grab a cup of coffee, have a chat, or play a game at Vagant, in the Utrecht Science Park, or the Parnassos cultural centre, in the city centre.
The university has also installed chess tables and ping-pong tables throughout the campus. Wildeboer: "In the next few months, we're going to study what works and what doesn't in the hopes of finding out more about students' needs."
The two add that a warm welcome for new students is also included in the plans to improve a sense of community at UU. There are already several initiatives for international students in this regard, but the taskforce thinks that a more elaborate introduction could also be beneficial to Dutch students.
As part of its warm welcome ambitions, the action plan proposes a "bridge" programme to be offered to 15 percent of UU's first-year students in the summer preceding their arrival. In this programme, students who are not completely sure about going to university, or who aren't sure what to expect from university life, will get more acquainted with UU.
The Medicine programme is already running a similar pilot, in which small groups of new students attend workshops and other activities. Bloo: "The regular introductions are usually focused on what you can do and where. This is more about 'how can I make myself feel at home here?'"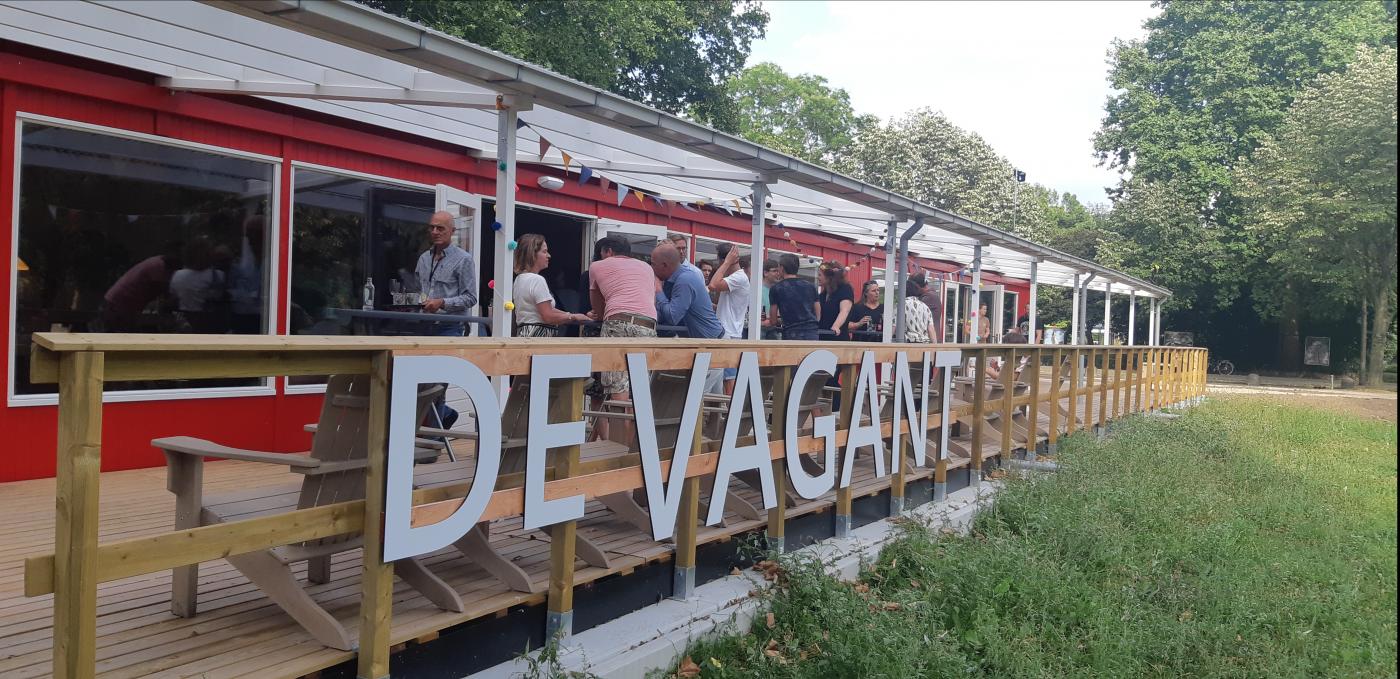 ---

3 Preventing is better than treating
In the next few years, the university intends to turn its attention to the prevention of mental health issues, in addition to sharing knowledge about the topic. Both things were already high on the agenda. Bloo: "It's important to highlight that things can and do go well very often, and why that is."
The taskforce would like to see students make use of the e-modules offered by Caring Universities, a joint initiative involving several Dutch universities with the aim to improve students' wellbeing. Currently, 845 students are enrolled in these modules; the goal is to reach at least 2,000 students a year. Caring Universities is also set to increase the number of modules available online. 
Moreover, more students should be participating in the other workshops organised by UU, as well as the Wellbeing Week. The goal is to have 10 percent of students from each year participating in one or more training sessions. As for the Wellbeing Week, the audience should increase from 2,000 the current students to 2,500 students.
To achieve these goals, the aforementioned initiatives should be much better advertised, which often turns out to be a bottleneck. Currently, many students say they have no idea about what UU offers in that regard, even though those who do participate tend to rate both the online and the offline activities favourably.
Wildeboer: "We're working on improving the awareness in multiple ways. For example, introduction weeks have recently started to include the topic of wellbeing: how the university can help its students and how counselling works here. That's already helping. But that's just one of the ways we can inform students. Not all students need this information and some really don't care about it at all but it's important that those who do need support know where and how to get it."
---
4 Get UU's employees involved with students' wellbeing
The taskforce values the idea of student wellbeing being seen as a task shared by the entire university community, which is why lecturers should be trained to deal with students who need help, especially if they're serving as tutors. However, many lecturers are concerned that this additional task is only going to overwhelm them with work. Simon Bloo acknowledges the concern, but thinks that the additional load doesn't need to be too heavy.
"You can achieve a lot through little things. Asking how a student is doing, checking whether previous advice was listened to. A teacher doesn't necessarily have to have long conversations with depressed students or try to help those student themselves. But they should be able to refer those student to the right people. The point is that students will always feel like they're being listened to, that they can find help they need at the university."
Advertisement