UU does want more international students, just not as many as possible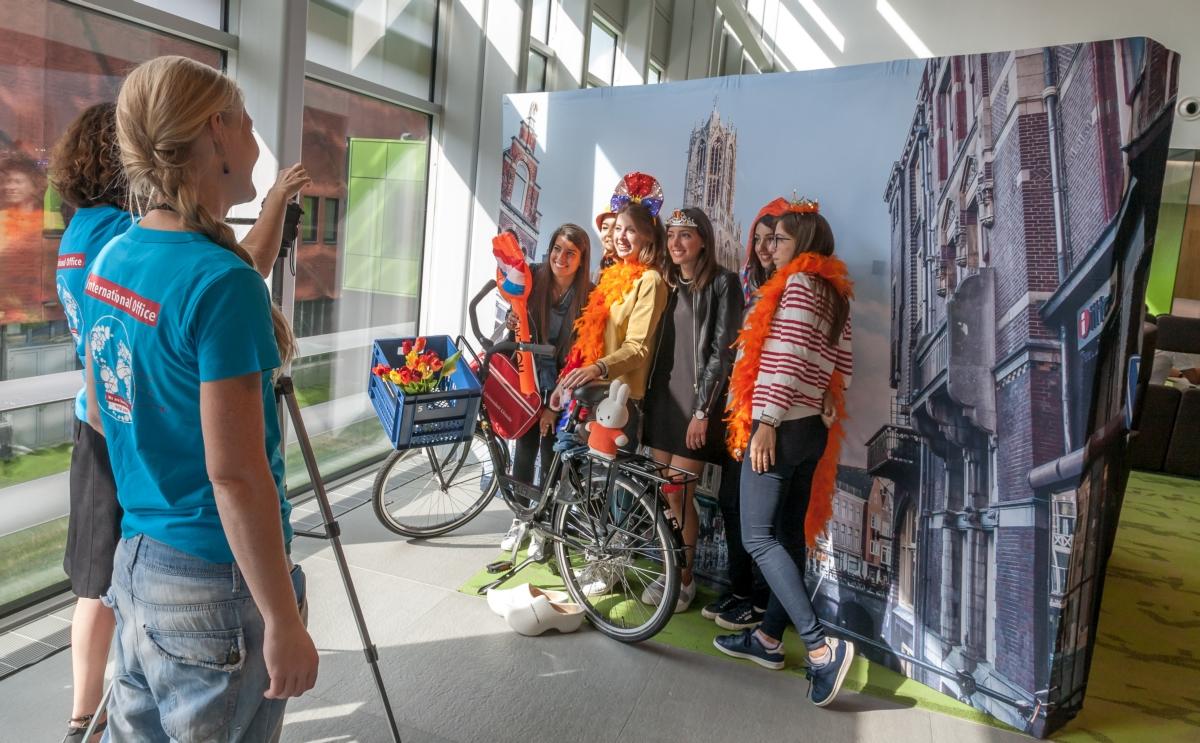 Orientation day for international students in 2017. Photo: Bart Weerdenburg
Finally, universities and universities of applied sciences have had their fill of the indomitable urge to attract foreign students to their English study programs. Some critics responded with cynicism to the early media items about the internationalization agenda published this week by the Vereniging Hogescholen and the association of universities VSNU. The educational institutions used the agenda to ask, among other things, for the ability to implement a limitation of students in English study programs.
After reading through the full report, things turned out to be more nuanced. The institutions definitely do want to continue increasing their internationalization, in the interest of their students, society, the economy, and their own position in terms of competitiveness. They're not aiming towards attracting fewer international students, per se, but at the possibilities of steering and adjusting whenever internationalization may cause problems.
Because in some study programs, change is inevitable. Universities like Maastricht and Groningen are less than happy with a sometimes very unilaterally (German) student population. And for the first time, Amsterdam has received more foreign applications than Dutch ones. These developments are already leading to all sorts of questions about the quality of the education, and the accessibility of it for Dutch students.
"We as universities still value internationalization," says UU president Anton Pijpers. "But we have to ensure it won't lead us in a wrong direction." Pijpers thinks the UU itself is, in terms of internationalization, "on the right path". An interview.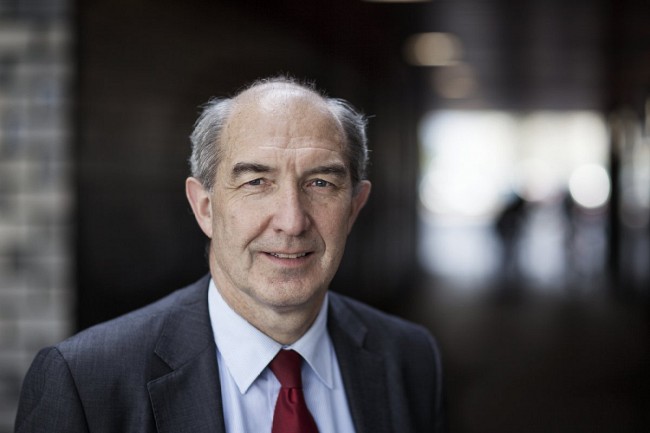 Photo: Ed van Rijswijk
The UU chairman says Utrecht's study programs have so far evaded the unwanted effects of internationalization. This is partly due to the fact that Utrecht was one of the last universities to actively recruit foreign students. Utrecht is still generally at the bottom of lists of foreign student percentages. According to VSNU numbers, 7.3 percent of UU students in 2016 was not Dutch. At other universities, this number is on average 16 percent. "That disadvantage has become an advantage; we haven't had any growth spurts. And this way, we can learn from how things are done elsewhere."
Pijpers also points out the UU doesn't have a growth strategy for the UU as a whole – meaning that recruiting international students isn't a tool to maintain or increase the UU market share. According to Pijpers, striving to having more students in Utrecht is pointless, especially given the fact that the income per Dutch and EU student has been declining for years and are generally seen as insufficient.  "We have 31,000 students, and that's enough. We accept the loss in market share. We don't choose quantity; we never have."
But the UU does want more international students, doesn't it? It was an important point in the renewal of the master phase, and it's also in the Strategic Plan…
"Yes, we do think the number of internationals is still too small. We'd like an international classroom, because the input from different cultures can deepen the education. At this moment, most study programs still have too few students from other countries. But we aim for quality. So we're doing international marketing, but we're not looking at the big numbers, but at suitable students."
Still, things can progress quickly – last year, the international student population in Utrecht grew by 45 percent. What's the end goal?
"For now, it's not a huge number of students, and we don't think it's quite enough yet. In the Strategic Plan, we mention an average of 10 percent of international students per study program by 2020, which is relatively low. On top of that, we're aiming to attract more international students to our English-language master's programs, which are selective. So we're not required to accept everyone who applies."
But many of the selective master's degrees in Utrecht do want more international students, you say. That would mean it's possible that students with a bachelor's degree obtained at the UU might not get the chance to continue with their master's…
"Right now this isn't an issue, but yes, that could happen. At the very least, it's not self-evident that a UU student with average grades can demand a spot in a UU master's of his or her choice. But as Dutch universities, we do have a safety net structure. A student will always have access to a master's in his or her discipline at a university in the Netherlands."
In society and in politics, it seems as though resistance against the increase in the use of English in academic programs. What is your opinion?
"In Utrecht, we're definitely not switching to all-English. Our university has made a code of conduct, in which the principle standpoint is that the bachelor's programs are by default in Dutch, and the master's programs in English. That's a balanced strategy, of which the minister has told parliament that other universities could take it as an example."
And yet, two new English-language bachelor's programs may be introduced in the Science and Medical disciplines…
"Those are programs that will co-exist with the Dutch programs. Dutch students will still have the choice to do a study program in Dutch. That's also a principle of our internationalization agenda, by the way. We have a limited number of bachelor's programs that we only offer in English. We won't invest in an expansion of that number, unless there are special reasons to start an English study program, due to a specific international orientation. Think of, for instance, the new program Global Sustainability Studies."
I think the English proficiency of students and teachers is fine
When asked what Pijpers thinks of the oft-heard complaint that the poor proficiency of English of both students and teachers leads to a poorer quality of education, the UU chairman's response corresponds with the internationalization agenda. A majority of students isn't unhappy with English-language education, according to the National Students Questionnaire (NSE). Pijpers: "I think we're doing quite well."
The chairman also points out that both students and teachers receive a lot of support. "There are various options for cheap or free courses. We're also explicitly looking at how we can help our support staff – as we're now expecting employees who are responsible for formal, legal, or public texts, to write them in English too."
Beyond that, Pijpers isn't going to be tricked into fundamental discussions about English versus Dutch, or making strong statements. "I like looking at it pragmatically. In most cases, people will manage together just fine. Recently, I talked to a number of professors of whom one understood Dutch, but preferred to converse in English. Well, fine. If the whole thing had had to be done in English, that would've been possible, too. That's also how I look at the language used in the co-determination councils. Eventually, you'll have to make some choices in that perhaps. But right now, it's not the case that many international students or employees sign up for the council yet."
The university is not a housing association
One thing Pijpers worries about more, is housing the international students. The Utrecht housing market is already problematic for Dutch students – let alone for students who come from far away. This week, the UU announced an extra budget of a maximum of 280,000 euros to expand (among others) the number of short stay rooms (rooms that are reserved for foreign students at housing organizations such as SSH). Within Utrecht and in neighboring municipalities, they're searching for adequate available housing. There are also agreements with hostel chain StayOK. "But we already know it's not going to be enough," Pijpers realizes.
Universities are often accused of recruiting students without providing any kind of housing. What do you think?
"First of all: in our recruitment, we're after quality, not quantity, as I've said. Second: we're not a housing association. Of course we do feel a moral responsibility. The question is where it ends. We do try to offer as many rooms as possible, but the market in Utrecht is incredibly hard. At the same time, we're doing all we can to educate prospective students about the housing market in Utrecht. So then, if you come here without any preparation… or if you insist on living in the city center… there's a line there somewhere. Besides, almost everyone finds a place eventually. We hardly know any examples of students who quit their studies in Utrecht purely because of frustration with the housing market."
How many international students will come to Utrecht next year, is still unknown. The application numbers show an increase, but they will not be published yet. Pijpers: "Those numbers are very unreliable. People are applying strategically – some students try to get into eight universities."
Translation: Indra Spronk